Keira Knightley: 'Duchess' Isn't Diana In Disguise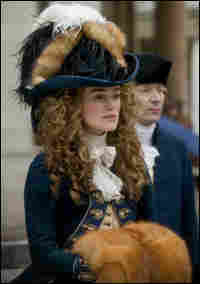 Peter Mountain/Paramount Vantage
Thomas Gainsborough/Hulton Archive/Getty Images
'The Duchess' Reviewed
British actress Keira Knightley was only a child when Princess Diana died, and while she remembers the tragedy, she says her parents "never had any gossipy newspapers around the house."
Now, at age 23, Knightley stars as Georgiana Spencer, Duchess of Devonshire and distant 18th century relative of Princess Diana, in The Duchess.
Knightley says she has heard plenty of parallels drawn between Diana and Georgiana — their beauty, their popularity, their political roles, their complex love lives in the public eye — but insists that the filmmakers had no intention of "disguising" a Diana biography.
"We were very much making a film about Georgiana ..." Knightley tells Robert Siegel. "It certainly wasn't my intention to make a film about Diana."
The Duchess spans a decade of Georgiana Spencer's life, starting in her late teens. Born in 1757, Georgiana led a scandalous personal and political life; she was influential in England's Whig Party and was known for out-gambling and out-drinking the men of London's aristocracy.
The film is based around Amanda Foreman's biography of Georgiana, and Knightley says she relied heavily on "the wealth of knowledge" in the book to mold the character on-screen.
"I think what's wonderful when you're doing a period piece," Knightley says, "is to sort of dive into the period and learn as much as you can about that society."
Growing up in a theatrical household, Knightley has been diving into fantasy and acting since she was young. Her parents were both involved in the political theater movement in London in the 1970s, and she says she grew up with the "magical" sense that "theater and art could really change the world."
Knightley has taken on several costume epics of late: from Pride and Prejudice to King Arthur to three Pirates of the Caribbean movies.
She says that the success of Pirates of the Caribbean has given her the flexibility to choose smaller films and seek out roles that really speak to her.
"I have to be fascinated by [the character's] world in order to want to explore it," she says. "I think the only way you're going to make a character interesting on-screen for people to watch — and hopefully enjoy — is if you're actually interested and enjoying it yourself."