Palin Moved The Electoral Map, But For How Long?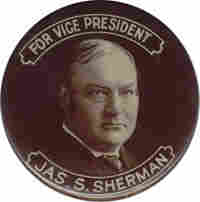 First, let's get something straight. With all due respect to Howard Dean, there is no "50-state strategy."
When Dean, the former Vermont governor and presidential candidate, was running to head the Democratic National Committee following John Kerry's defeat in 2004, he said that the party's presidential nominee would no longer rely on just 14 or so states — as Kerry and Al Gore before him had done. He claimed that a revitalized Democratic Party would focus on 50 states — presumably, states where Democrats had not been previously competitive.
Dean's vision certainly came to fruition in 2006, when Democrats picked up enough House and Senate seats to take control of Congress. And earlier this year, they won special House elections in previously solid GOP districts in Illinois, Louisiana and Mississippi.
But here we are, with 48 days to go, and the presidential election is once again focused on a very familiar list of states, just about the same from four years ago. The magic number of 270 electoral votes will be culled from these states.
The significant gains made by the Republican ticket are attributed to, and justifiably so in our view, the addition of Sarah Palin. States that Bill Clinton, Al Gore and John Kerry won over the past four elections are now becoming increasingly competitive. (In fairness, a number of red states are also up for grabs. And Democrats, too, are said to be energized by Palin's selection.) The Alaska governor has not only become a rock star among conservatives but also is outshining John McCain on the hustings. In fact, McCain is campaigning almost constantly with Palin at his side, an unusual move in presidential politics. How long this lasts is anyone's guess. Every day there are new stories about Palin from back home, be it her role in the attempted firing of a state trooper (read: ex-brother-in-law), or her role with earmarks (read: Bridge to Nowhere).
Nonetheless, the race for the White House — as our electoral map clearly shows — is up for grabs. Here, alphabetically, is where the presidency will be won or lost:
COLORADO (9 electoral votes) -- Both candidates are hitting this state hard; Obama was there this week with a major assault on McCain's economic policies. The state has voted Democratic only once in the 10 elections since the Lyndon Johnson landslide in 1964, and that was for Bill Clinton in '92. Dems had hoped to take the state four years ago, but Bush won by 5 points. It's a legitimate even-steven state, though some see Obama with a tiny lead. Tossup.
FLORIDA (27 electoral votes) — Ground zero in 2000, Bush won by 5 points in 2004, and McCain is thought to have a small but increasing lead now. As in several states, there seems to have been a shift among white voters in McCain's favor in recent weeks. And Jewish voters, normally Democratic, remain wary of Obama. Republicans have carried the Sunshine State in four of the past five elections. Leans McCain.
INDIANA (11 electoral votes) — Perhaps the Dems had a crack at it with Sen. Evan Bayh on the ticket. But he's not and they don't. It's not the GOP lock it once was, but the streak of voting Republican 10 straight times is likely to continue. Leans McCain.
IOWA (7 electoral votes) — The Hawkeye State is one of just three states that switched their allegiance from 2000 (Dem) to 2004 (GOP). Both contests were decided by a point, and this year could also be close. But Obama seems to have opened a small but steady lead in the state. Leans Obama.
MICHIGAN (17 electoral votes) — George H.W. Bush, in 1988, was the last Republican presidential candidate to take the state. Democrats fret that because their candidates never came into Michigan during the primary, Obama is at a disadvantage. But this has become a real battleground; McCain and Palin are in the state this week, touting McCain's message of change. Obama is thought to have a small lead in a state where the economy is always an issue, and Democrats feel that if the economy is indeed the issue, it's good news for them. Tossup.
MINNESOTA (10 electoral votes)-- No state has gone longer without voting for a Republican for president; the last time was 1972 and Richard Nixon. But recent elections have been close, and indeed one poll this week showed Obama and McCain even. Evangelicals in the state have enthusiastically embraced Palin. The guess is that, in the end, Obama triumphs. Leans Obama.
NEVADA (5 electoral votes) — Bill Clinton carried the state twice, but it's been all GOP every other time since '64. A growing Hispanic presence in the state, a foreclosure crisis and a large increase in Democratic registration may ultimately put Obama on top. The Illinois senator spent Wednesday in the state. Tossup.
NEW HAMPSHIRE (4 electoral votes) — This was McCain's go-to state in the 2000 and 2008 Republican primaries. But New Hampshire is a far cry from the reliable Republican state it was in the past. Bill Clinton won it twice. Had Al Gore won it in 2000 — it was close -– he would have become president. John Kerry won it last time out (and that too was close: Just 1 point separated Kerry and Bush). And Democrats had a record-breaking year in '06, unseating both GOP House members, re-electing the Dem governor by a record margin, and taking both houses of the state Legislature for the first time since the 19th century. Obama may have a slight edge. Tossup.
NEW JERSEY (15 electoral votes) — This was not supposed to be close, and it may not turn out to be. But not a few jaws dropped this week with the results of a Quinnipiac Poll that showed Obama with just a 3-point lead: 48-45. The poll showed a huge shift in the past month among white voters toward McCain. We'd be surprised if the McMentum continues in the GOP direction. Leans Obama.
NEW MEXICO (5 electoral votes) — Before Bush carried the state in 2004, it had gone Democratic three straight times. McCain, from Arizona next door, is hoping his Southwestern roots will help him carry the state. As in Nevada, there is a large amount of Latino voters here, and Gov. Bill Richardson, who is Hispanic, will be leading the Dem charge. Leans Obama.
OHIO (20 electoral votes) -– The Buckeye State is what determined the 2004 election and could prove to be equally significant this time. No Republican has ever won the presidency without it, and McCain is working hard in an effort to wake up the once-dominant party machine. Whereas some blue states have shown a move toward McCain, Ohio has shown signs of Obama strength. The respected Ohio Poll released this week had McCain up by 4, 48-44. McCain has to win the state if he's to win the election. Tossup.
PENNSYLVANIA (21 electoral votes) — Pennsylvania is as important to Obama as Ohio is to McCain. The Democrat showed clear deficiencies during his primary loss to Hillary Clinton, especially with blue-collar whites (sounds like I'm doing laundry) and cultural conservatives, many of whom are Democrats. A Rasmussen Reports poll this week had it dead even -– 47 percent apiece -– after showing a slight Obama lead in recent months. The poll also showed voters trusting McCain more than Obama by a 51-42 margin. Tossup.
VIRGINIA (13 electoral votes) — If there indeed is a McCain surge, it's not apparent here, a red state that hasn't gone Democratic since 1964. But the Old Dominion has elected Democratic governors in two successive elections, ousted a GOP senator in 2006 and is likely to add another Democratic senator this year. The Palin addition has helped the Republican Party here, with evangelicals strongly coming on board since she was picked. The guess here is that, in the end, McCain triumphs. Tossup.
WISCONSIN (10 electoral votes) –- Obama has had a lead since he captured the Democratic nomination, but it has narrowed in recent days. Kerry defeated Bush by about 11,000 votes in 2004. Leans Obama.
THE ROAD TO 270: Everyone should try out our interactive electoral map. Currently we have it as McCain with 227 electoral votes and Obama with 222. Seven states — Nevada, Colorado, Michigan, Ohio, Pennsylvania, Virginia and New Hampshire — are thought to be tossups. If, for argument's sake only, you give Nevada, Michigan, Pennsylvania and New Hampshire to Obama, and you award Colorado, Ohio and Virginia to McCain, you wind up with ... 269 electoral votes for each candidate. Wouldn't that be fun the day after Nov. 4! (And I know what you are thinking. If that happened, the presidential race would go to the House, and the VP race would go to the Senate — where Democrats are expected to keep their majorities in both chambers.)
Time for some questions:
Q: What would happen if one of the presidential nominees were to die before the election? Do the parties have a mechanism in place to nominate a replacement? Would the vice presidential nominee take over? — Nate Gilmore, Sacramento, Calif. Similarly, Randy Krehbiel of Tulsa, Okla.; Westelle Griswa of Clovis, Calif.; Laurie Larson of Princeton, N.J.; and Clay Robinson of Georgetown, Ky.
and ...
Q: Has there ever been a case of a nominee for a major party dying prior to the presidential election, and how was the situation resolved? — Joe Parsons (and his 10-year-old son), Iowa City, Iowa
A: If John McCain or Barack Obama were to die before Nov. 4, the respective national party would meet to name a replacement. That could, theoretically, mean that Sarah Palin or Joe Biden would be their parties' presidential nominee, but it wouldn't have to be. When Thomas Eagleton, the 1972 Democratic nominee for vice president, withdrew from the ticket, the DNC met in Washington within days and nominated Sargent Shriver as his replacement.
The only time a candidate's death occurred in a presidential race was in 1912, when Vice President James Sherman (R) died on Oct. 30, just six days before the election. The RNC met and named Nicholas Murray Butler as President William Howard Taft's running mate. But the Republican ticket won only eight electoral votes that year.
Q: What do you think Hillary Clinton's political future will be if she and Bill are perceived as undercutting Obama and possibly costing him a close election? — Jim Scheid, Cottonwood, Ariz.
A: Probably zilch, and that's why the Clintons — Hillary in particular — have been doing everything that has been asked of them. She has made recent campaign stops in Florida and Ohio, and while she has pointedly not gone out of her way to criticize Palin, she has effectively made the case for Obama's election. Still, it should be pointed out that Ronald Reagan, defeated in his bid for the Republican presidential nomination in 1976 by President Gerald Ford, hardly went all out for Ford in his general election battle against Jimmy Carter. Nonetheless, Reagan was the party favorite for the GOP nomination four years later, when he went on to become president.
Q: Cynthia McKinney is the first black to win a presidential nomination, not Obama. As for Lenora Fulani, she was an independent, not the nominee of a party. — Sterling Bushnell, Tucson, Ariz.
A: I never said Obama was the first African-American to win a presidential nomination, though he certainly is the first from a major party to do so. But McKinney is hardly the first black to win a presidential nomination of any sort; Clifton DeBerry was the presidential nominee of the Socialist Workers Party back in 1964. The Communist Party's Charlene Mitchell followed four years later. And there have been others (see this Jan. 24, 2008, column).
PETER CAMEJO DIES: A longtime progressive activist who opposed the war in Vietnam and marched in Selma with the Rev. Martin Luther King Jr., Peter Camejo later became a leader in the Green Party, where he three times ran for governor of California (including in the 2003 recall election against Gray Davis) and was Ralph Nader's running mate in 2004. He was also the Socialist Workers Party presidential nominee in 1976. Camejo was 68 years old.
NO-SHOWS IN 1940: Keating Holland, the director of polling for CNN, has come up with proof of our claim in last week's column that neither President Franklin D. Roosevelt nor Vice President John Nance Garner showed up at the 1940 Democratic National Convention in Chicago — an absence that was not repeated until Bush and Cheney failed to show up this year in St. Paul. Keating sent along a vintage AP story that appeared in The New York Times indicating that Garner, who had hoped to replace FDR as his party's nominee that year, had "secluded himself" in his office in Washington.
POLITICAL GRAFFITI: Despite continuing questions about his personal finances and unpaid taxes, Rep. Charles Rangel (D-NY) says he will not step down as chairman of the House Ways and Means Committee.... If you remember earlier this year, Rep. Rob Andrews (D-NJ) gave up his House seat at the last minute to challenge Sen. Frank Lautenberg (D) in the Senate primary. He had his wife run for his House seat in his stead. He pledged, over and over, that he would not seek to return to the House. Well, lo and behold — and to no one's surprise, but to everyone's growing cynicism — Andrews has changed his mind. His wife said she will step aside, and now he is once again the Democratic nominee for Congress in New Jersey's 1st District.... Democratic leaders in suburban Cleveland have tapped Warrensville Heights Mayor Marcia Fudge to be their party's nominee to succeed the late Rep. Stephanie Tubbs Jones (D-OH) in the special Nov. 4 election. Fudge had previously been the congresswoman's chief of staff. Tubbs Jones died Aug. 20.
MEET THE CHALLENGERS
Back in 2006, we initiated this feature, by which we asked you to send in campaign buttons for candidates for the Senate, House and governor. Our end of the bargain — aside from satisfying Ken Rudin's button craze, which is bordering on the unhealthy — would be to feature the candidates in a "Meet the Challenger" section.
This week: Teresa Sue Bratton, a Democrat running in North Carolina's 6th District, and Doug Cloud, a Republican in Washington's 6th CD.
Bratton, a pediatric allergist in her first race, faces an uphill battle against 77-year-old Republican incumbent Howard Coble, first elected in 1984, in a state that is likely and a district that is almost assuredly to go for John McCain. Coble, who usually tops 70 percent of the vote, is known for his constituent service, but Bratton thinks this is her time, given the fact that "people see a crisis in health care, in our economy and our environment." Bratton points to Coble's 2007 vote against reauthorizing the Children's Health Insurance Program as one of the reasons she says it's time for a change. On the environment, she has a plan to reduce the impact of climate change "by cutting greenhouse gas emissions, improving air and water quality, and making our food supply and housing stock safer." In Iraq, she believes in an "orderly withdrawal of troops ... as soon as possible," but she supports an increase in U.S. troops in Afghanistan.
The odds don't look much more promising for Cloud, an attorney who is challenging Rep. Norm Dicks (D) for the second time. In 2006, Dicks defeated Cloud 71 percent to 29 percent. Dicks has been in Congress since 1977 and has rarely had a tough race. Cloud is hoping to win over disaffected Democrats who are unhappy at the leftward drift of their party. He is a strong conservative who supports lower taxes and less government regulation, while opposing racial preferences and "welfare for illegal aliens." He says the idea that global warming is man-made "remains at best a theory." But while he says the war against Islamist terrorists should continue with vigilance, he nonetheless opposes the war in Iraq and opposed the decision to go to war in the first place.
Want to see your candidate's campaign button appear in the next column, and, at the same time, make Ken Rudin happy? Send your 2008 buttons to Political Junkie, 635 Massachusetts Ave., N.W., Washington, DC 20001.
ON THE CALENDAR:
Sept. 20 — Hawaii primary
Sept. 26 — First presidential debate, University of Mississippi in Oxford, 9 p.m. Eastern
Oct. 2 — Vice presidential debate, Washington University in St. Louis
Oct. 4 — Louisiana primary
Oct. 7 — Second presidential debate, Belmont University, Nashville
Oct. 15 — Third presidential debate, Hofstra University, Hempstead, N.Y.
Nov. 4 — ELECTION DAY
POLITICAL JUNKIE EVERY WEDNESDAY AT THE NEWSEUM: This week, another attempt at interesting conversation and sparkling jokes, when the Political Junkie segment appears on Talk of the Nation (NPR's call-in program), as it does at 2 p.m. every Wednesday before a live audience at the Newseum, Washington's interactive museum dedicated to journalism. The Newseum is located at 555 Pennsylvania Ave., N.W., off Sixth Street.
Want to be part of that audience? The tickets are free. And you get to see what Ken Rudin looks like in person, a worrisome proposition in any case. Send an e-mail request to tickets@npr.org. (NOTE: The Oct. 8 edition of Junkie on TOTN will take place in Columbus, Ohio.)
Remember, if your local NPR station doesn't carry TOTN, you can hear the program on the Web or on HD radio. And if you are a subscriber to Sirius radio, you can find the show there as well (siriusly).
By the way, we always get nice (and sometimes not-so-nice) letters following each week's program, but this one, from Phil Kulak of Eugene, Ore., is one of my all-time favorites. Phil asks, "When someone calls in with a one-term state senator from 1976 as the answer to a trivia question and in explaining why it's wrong you recite most of the person's political career, is that just coming off the top of your head, or do you have screeners filling you in beforehand? Maybe you have Wikipedia open at all time when you're in front of the mike?"
Haha, that one made me chuckle (hence the "haha"). Actually, I take that as the ultimate compliment. The answers indeed come off the top of my head. The phone calls are live, and so my answers have to be immediate. There are no Junkie screeners, and I would never use Wikipedia to look something up in any event. Sometimes I've been wrong; I once asked a trick question about when was the last time the winner of the NCAA basketball tournament came from the same state as the president elected that year (the answer was 2004, when the tournament was won by Connecticut, the birth state of George W. Bush). One of the callers suggested 1968, when UCLA won (and Richard Nixon was elected). In any case, that wouldn't have been the most recent time, but if memory serves, I said that UCLA did not win in '68 ... a moment when I answered incorrectly.
But I do this off-mike as well. At the St. Paul airport earlier this month, as I was returning to Washington the day after the Republican convention ended, I was buying a newspaper when I noticed Tom Kean, the former governor of New Jersey and co-chair of the 9/11 Commission, standing right next to me. I walked up to him and said, "Excuse me, but aren't you the guy who lost to Millicent Fenwick in the 1974 GOP primary for Congress?" As his eyes widened in disbelief/horror/amusement, I went on, "And, weren't you defeated by Ray Bateman for governor in the 1977 primary?"
I know what you're thinking. But medication doesn't help.
IT'S ALL POLITICS: There is a wide smattering of opinion that last week's "It's All Politics" podcast episode, in the wake of the Palin interview with ABC's Charlie Gibson, was one of our best ever. But we'll let you decide; it can be heard here. And there's a new one every Thursday.
******* Don't Forget: If you are sending in a question to be used in this column, please include your city and state. *********
This day in campaign history: Retired Gen. Wesley Clark declared his candidacy for the Democratic presidential nomination, the 10th Democrat to do so (Sept. 17, 2003).
Got a question? Ask Ken Rudin: politicaljunkie@npr.org