Chile Peppers: The Science Behind The Spice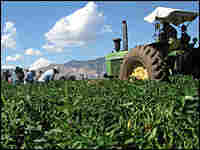 Science Friday broadcasts this week from the heart of the "chili belt" in Tuscon, Ariz. What makes peppers spicy? Why do some people love spicy foods? Researchers explain the chemistry of peppers and the psychology of spice.
Growing peppers isn't a low-tech task — farmers explain what goes into getting jalapenos from seed to shelf, and how science helps them to do it.
Guests:
Jeff Silvertooth, professor and head of the Soil, Water and Enviornmental Science department in the College of Agriculture and Life Sciences at the University of Arizona
Ed Curry, a farmer, and owner of Curry Seed and Chile Company
Gary Nabhan, research social scientist and adjunct professor at the University of Arizona, and author of Why Some Like it Hot: Food, Genes, and Cultural Diversity
Jean England Neubauer, owner of Santa Cruz Chili and Spice Company