Sol LeWitt: Conceptual Art Pioneer Dies at 78
Sol LeWitt: Conceptual Art Pioneer Dies at 78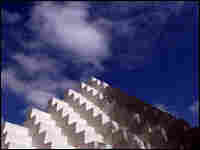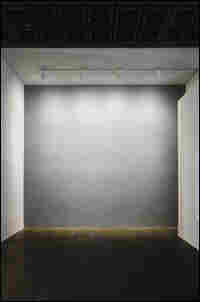 Sol Lewitt/Artists Rights Society (ARS), NY
Modern-art pioneer Sol LeWitt has died at age 78, leaving behind a legacy of strikingly simple invention: cubes, lines and installations that covered the floors and walls of museums, along with outdoor sculptures made of concrete, plastic or other unassuming materials.
LeWitt died Sunday from complications of cancer in New York. At the Sculpture Garden outside Washington, D.C.'s National Gallery of Art, a concrete pyramid tucked in a corner looms high above the heads of four students from a Maryland high school.
An art historian might relate the blocky geometric structure of this piece, called "Four-Sided Pyramid," to the ziggurats of ancient Mesopotamia — and to New York skyscrapers. The students, though, talk about its plain geometries, how many different colors appear to emerge from its uniform white, and the intricacy of its layers of cubes.
Somewhere, Sol LeWitt is smiling.
LeWitt worked in simple shapes and simple colors. LeWitt was a sculptor and painter inspired in part by a photographer, Eadweard Muybridge, who worked in the late 19th century. (You may have seen his famous black-and-white sequential pictures of a horse running, or of human beings in motion.)
"I've long had a strong affinity toward Muybridge," LeWitt told NPR in 1991. "A lot of his ideas appear in my work."
LeWitt's work reflected the poetry of repeated patterns and their occasional variations, along with the solid rationality of geometric systems. Independent curator Andrea Miller Keller knew LeWitt for decades; she says he challenged art's very nature by de-emphasizing who made it, and how it was made.
"For him," Miller Keller says, "it was the quality of the thinking [that] was paramount."
So LeWitt came up with ideas, wrote down very specific instructions and had others build his pyramids or paint his massive wall drawings. And LeWitt's lines and grids stepped away from the spontaneous passion of the paint-flinging abstract expressionists who preceded him. But Miller Keller says LeWitt's work is not cold.
"Thinking, for LeWitt, was not a brain-twisting or intellectual endeavor," she says. "He said one should be intelligent enough to know when not to be too intellectual. Another one of his sentences is that 'conceptual artists are mystics.'"
Artist John Baldessari, in a particularly conceptual moment, sang several of LeWitt's 35 "Sentences on Conceptual Art," which LeWitt published in 1969. (Click the listen link above to hear Baldessari's renditions.) Those sentences are quoted often, but LeWitt hated the trappings of fame. He preferred helping young artists by showing his works with theirs in small galleries, says curator Andrea Miller Keller.
"He really loved artists, curators," she says. "He had respect for all artists."
It took some time for that respect to flow from critics, who for years assailed LeWitt's work as harsh, dry and joyless. At the National Gallery's Sculpture Garden, Lou Morrow, visiting from Las Vegas, says that's hard to believe. He thinks "Four-Sided Pyramid" is terrific.
"I was just telling my granddaughter that's the way to stack your blocks," he says.
Who knows? Maybe she'll grow up to be one of the many young artists who continue to be influenced by the legacy of Sol LeWitt.