Regina Spektor On Mountain Stage
Regina Spektor in Concert on Mountain Stage - 09/22/2008
SET LIST
"Ain't No Cover"
"On the Radio"
"Man of 1,000 Faces"
"Better"
"Ghost of Corporate Future"
"Fidelity"
"Summer in the City"
"Real Love"
"Samson"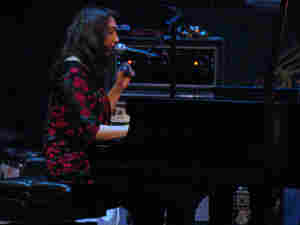 In the early 2000s, Russian-born Regina Spektor was making music in tucked-away clubs on New York's Lower East Side. By 2003, she'd landed a record deal with Sire, and her self-released album Soviet Kitsch was reissued by the label.
Spektor's tantalizing piano playing and her quirky character pieces helped land her widespread exposure, particularly after the 2006 release of Begin to Hope. Buoyed by the hit song "Fidelity," the album was critically acclaimed, and helped cement Spektor's place as a pop-music phenomenon.
In the midst of an illness, Spektor was forced to postpone two headlining gigs prior to this scheduled appearance on Mountain Stage. Though still suffering the effects, she was in top form — and managed a bit of humor when an audience member sneezed during the introduction to one of her tracks.