In Berkeley, New Music And Joyful Bach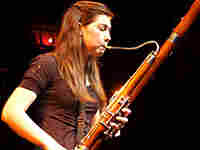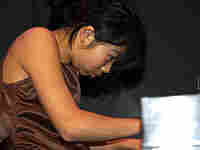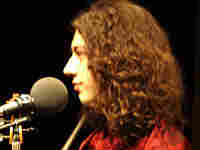 This week, From the Top visits Berkeley, California, where a 12-year-old pianist joyfully wraps her brain and fingers around a Bach fugue, a hockey-playing bassoonist plays Weber and a teen quartet offers up a new work by a local 17-year-old.
Sixteen-year-old Anthony Bracewell, grew up in Ontario, Canada, surrounded by music. His mother loved listening to Broadway show tunes and his father played guitar and harmonica. Bracewell began Suzuki violin lessons at age five, but when he was ten the young violinist suffered the loss of his father, an ordeal that served to deepen his relationship with music.
"Any time you go through something traumatic it makes you see things differently," says Bracewell. "In my case, I turned to my violin, and it brought my playing to a new level. I've always been able to turn to music when I've been sad or lonely."
Bracewell — a recipient of the Jack Kent Cooke Young Artist Award, performs the Introduction and Rondo Capriccioso by Camille Saint-Saëns, accompanied by host Christopher O'Riley.
For 12-year-old Hilda Huang, nothing is more satisfying than playing the music of Johann Sebastian Bach, because it's so analytical.
"You have to really understand the music to play it well. I think it uses a different part of the brain," she says.
Not only does Huang play Bach on the piano, she also enjoys playing the harpsichord, the instrument for which Bach composed much of his keyboard music.
"When you play a harpsichord you don't have the dynamics you have with piano," explains Huang, "You can't make the notes louder or softer. To differentiate the voices you need to play with time to create an illusion that certain notes are louder."
The young pianist plays "Contrapunctus No. 1" and "Contrapunctus No. 9" from Bach's Art of the Fugue.
Bassoonist Brigid Babbish, 18, is finishing her senior year at Cranbrook High School in Michigan, a school she almost wasn't able to attend.
"When I originally told my parents I wanted to go there they said it was too expensive," she explains.
Babbish set out to find a way. She went online and learned there was a music scholarship available, and although she had just started bassoon and knew it was a long shot, she decided to apply. Although the audition went well, Babbish soon received a phone call with news that she had not received the scholarship. She was disappointed until she received a second phone call.
"They said that they liked my playing so much that they were going to institute a brand new scholarship in my name so I could attend the school," recalls Babbish. "It's been the most amazing four years of my life!"
She performs the rondo from the Andante and Hungarian Rondo, Op. 35 by Carl Maria von Weber, accompanied by Christopher O'Riley.
Preben Antonsen's goal as a composer is to make classical music more accessible, especially to young people. One of the ways he does this is by welcoming influences from popular music.
Antonsen 's musical influences vary, but he is especially inspired by rap and hip-hop.
"I believe the hip-hop productions of Dr. Dre equal Schoenberg in musical complexity and sophistication," he says.
Unlike most people who appreciate rap primarily for the lyrics, Antonsen is more interested in the musical aspects.
"I'm interested in all the different sounds and the control the producers have over all the layers of sound," he explains.
Antonsen's new piece, Camouflage, was partially inspired by a rap song of the same name by the duo Swollen Members. He wrote it during an 18-day stay at the Yellow Barn Young Artist program.
"I had to write it in such a short time that it made me really focus 100%," he says. "I dreamt about the piece and I thought about it while I ate. I was basically always composing."
Camouflage is performed by the Viaggio Quartet: violinists Eric Gratz and Anthony Bracewell; violist Stephanie Price; and cellist Ken Kubota. The Viaggio Quartet recently won the St. Paul String Quartet competition.
Closing this program from the Bay Area is Chorissima, the top choir of The San Francisco Girls Chorus. The 41 singers range from 12 to 17 years old, tour both nationally and internationally, and sing regularly with the San Francisco Opera and San Francisco Symphony. The Artistic Director of the San Francisco Girls Chorus, Susan McMane, conducts Chorissima in a performance of the traditional songs The Water of Tyne and "Ah! Si mon moine voulait danser!" from Six Songs of Early Canada. Pianist Susan Soehner accompanies the ensemble.