Apocalypse Soon: 'Children of Men' Out on DVD
Children of Men, the breathtaking Alfonso Cuaron film based on P.D. James' dystopian-futurist novel, has just come out on DVD. Critic-at-large John Powers takes a look at one of 2006's most talked-about movies.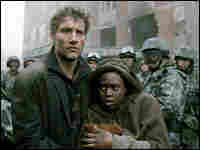 Cuaron Faced New Challenges in ' Children of Men'
Alfonso Cuaron's latest movie is Children of Men, a dystopian tale about a civilization that has lost the ability to reproduce, until one woman becomes pregnant. Michele Norris talks with Cuaron about a shot in the film that lasts about six minutes, without a cut.
Cuaron describes the challenges of choreographing the shot. It depicts a battle scene in a refugee camp, with tanks, explosions, and the film's stars racing through the violence to reach safety. Cuaron's other films include Harry Potter and the Prisoner of Azkaban and Y Tu Mama Tambien.