Future Of Native American Traditions In Doubt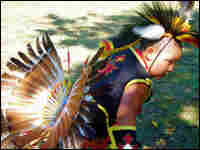 Like other 9-year-old boys, Tyler Richardson has a lot of energy, and he enjoys playing football and baseball. But this weekend, he's not running around in a tank top and shorts throwing a ball — he's dancing at a powwow, a Native American social gathering. As he bobs and shakes his black and orange fringe swings wildly, and his feathered headdress starts to come loose.
"I just can't stop because it's so fun and it's my culture," he says.
Each year, thousands of Native Americans travel hundreds of miles to participate in powwows. Some families squeeze into cars for long drives, while others haul huge drums and elaborate outfits on cross-country flights. The events bring tribes together and keep culture strong. But lately, with gas prices rising and the economy slowing, it has been a struggle to maintain this tradition.
Tyler is a member of the Haliwa-Saponi tribe from North Carolina. His family drove to Baltimore's annual powwow to sing and dance in competitions, which are the main attraction at many powwows.
Tyler says he doesn't dance for attention. He does it to honor traditions and family.
"My grandma, she was gone for a real long time and I had to go to a powwow that she couldn't go to," he says. "Then I danced in a competition and thought of her and I danced really good."
At the Baltimore powwow, Tyler dances while his dad, Jesse Richardson, sings in a drum group. Richardson holds his younger son in his lap, helping the toddler to grip a drumstick and pound out the rhythm. With their eyes closed, they belt out a traditional song.
The drum is the heartbeat of the powwow. It's a call of pride that reminds Native Americans to stay strong, but Richardson believes it's also vital to share native culture with people outside the tribe.
"I feel like my people need me to go out and be heard and seen," Richardson says. "I was raised by my dad. He's always been hardcore — be with your people, keep up with your people and keep the race alive."
Richardson used to take his family to more than a dozen powwows a year. But this year, he has had to sacrifice culture to pay bills.
"We've stayed at home more now than we've ever done before because of gas and hotels," he says. ""If we decided to go, we were in the hole for a while because of it. It's kind of hard to stay away from powwows because this is what we do; this is what we're about."
The economy hasn't been rough on just dancers and singers at powwows. Some people, like Yellow Two Horse, make a living selling crafts to spectators. Two Horse drives his jewelry and art to about 30 powwows a year, and he says he used to make a decent amount of money. But not this year.
He says he went to a couple powwows, but when he tallied up all his expenses — on travel, rent, food, etc. — he lost money.
Two Horse says his business is down between 30 percent and 50 percent, so he has started going to some street fairs and flea markets instead.
Save for a few large events, powwow attendance across the country is also down. Many people say they cannot afford to go unless they win competitions.
After a long day of dancing in Baltimore, Tyler says he is hot and tired. But at the award ceremony, he wins $150. His parents let Tyler keep it, but they put their own $700 in winnings toward expenses. Richardson says he cannot count on winning every time, but it is worth the risk to see his sons dance.
"These boys look good out there and they always get compliments," he says. "People say they're going to be bad when they get older. They're going to be tough to beat in contest. It gets really positive for them. I'd like to keep it that way."
That may prove difficult. Powwows are among the few places for families like the Richardsons to dance and sing. But as the economy struggles, Native Americans worry about the future of this tradition.