Cranston Cooks Up Emmy Gold In 'Breaking Bad'
Cranston Cooks Up Emmy Gold In 'Breaking Bad'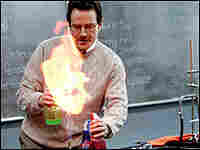 Actor Bryan Cranston recently won the Emmy for outstanding actor in a drama series for his performance in the AMC's Breaking Bad. Cranston's character, Walter White, is a high-school chemistry teacher who begins producing crystal meth after being diagnosed with cancer.
Cranston's previous credits include the beleaguered father in the FOX TV show, Malcolm in the Middle, as well as roles in the films, Saving Private Ryan and Little Miss Sunshine.
This interview was originally broadcast on Feb. 6, 2008.
'Breaking' into Character with Bryan Cranston
Film and television actor Bryan Cranston joins Terry Gross to discuss Breaking Bad, his new TV series airing on AMC.
On the show, Cranston stars as Walter White, a high-school chemistry teacher who's diagnosed with inoperable lung cancer. Oddly liberated, he looks up a former student turned drug dealer — and begins producing a singularly pure grade of crystal meth to help secure his family's financial future.
Cranston previously played the beleaguered father in Malcolm in the Middle. His film credits include Little Miss Sunshine and Saving Private Ryan.