Spike Lee's Epic Canvas, Painted With Broad Strokes
Spike Lee's Epic Canvas, Painted With Broad Strokes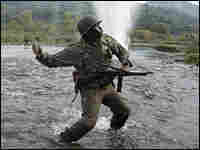 Miracle At St. Anna
Director: Spike Lee
Genre: Action, Drama
Running Time: 160 minutes
Rated R for strong war violence, language and some sexual content/nudity.
Spike Lee is the most prominent African-American director of all time, and he feels entitled, perhaps even obligated to challenge the malign neglect of the past --historical accounts omitting black contributions and the movies that passed along those myths.
He recently attacked Clint Eastwood for leaving African-American soldiers out of the Iwo Jima film Flags of Our Fathers, and his new World War II epic Miracle at St. Anna opens with an old black man in 1983 watching John Wayne in The Longest Day on TV and muttering, "We fought for this country, too."
It's a naked declaration of intent — a cinematic placard. In James McBride's historical novel about the all-black 92nd Infantry division that fought in Italy, Lee clearly saw the ideal vehicle for his Flags of Our Fathers, his Saving Private Ryan, his The Longest Day.
The canvas of Miracle at St. Anna is vast and impressive; what's disappointing is how heavy-handedly he fills it in. In a lurching prologue, that old black man, a post office teller, shoots an Italian man who shows up at his window. Police searching the black man's Harlem apartment find a long-lost marble head from a Florence bridge that was blown up by the Nazis. In Rome, a middle-aged man reads about the head and drops his coffee cup in slow motion. The film is a flashback to Tuscany in 1944 in which we learn why the old man killed the Italian, why he bristled at John Wayne, and why the guy in Rome dropped his coffee.
Lee crams a lot in, and ends up caricaturing almost everyone. His four protagonists — Buffalo Soldiers, they're called — are Derek Luke as the stalwart sergeant Stamps, Michael Ealy as the cynical ladies' man Bishop, Laz Alonzo as the anxious translator Hector, and Omar Benson Miller as the huge, lovable simpleton called Train.
It's Train who finds an injured Italian boy named Angelo and adopts him, carting him to a nearby village even after Bishop says to leave him be, that all white people are trained to hate blacks.
With the exception of two flashbacks, the rest of the film takes place in that village. Train bonds with the little boy. Bishop puts the moves on a gorgeous Italian played by Valentina Cervi. And everyone stands around waiting for something to happen, with no John Wayne in sight.
Everything in Miracle at St. Anna is labored — the debates between the cynical blacks and hopeful blacks, the heroic Italian partisans and the sneaky Fascists, the conscience-stricken Nazis and the cruel Nazis. The dialogue (by novelist McBride) is subtext-free, and the actors go broad when they can't go deep. Terrence Blanchard's score rarely stops. It's a magnificent piece of work, but it elegizes the characters before they can open their mouths.
Lee often sabotages his best ideas. In the first battle, the soldiers trudge through a river while a Nazi truck blasts the voice of Axis Sally, the German counterpart of Tokyo Rose, to entice them to surrender. Much of what she says hits home: that they're fighting for a country that once enslaved them and now keeps them down, that they're cannon fodder.
But Lee can't let the words hang in the air. He shows us Axis Sally in her plush red lair, a lipsticked white temptress. Then a cartoon-racist Southern colonel, miles from the scene, refuses to believe these "uppity" Negroes when they radio they've made it across the river, and he orders their location shelled. Lee lingers on the carnage — the men cut down by both Germans and Americans.
Here and later, in a flashback to a massacre of a village, including women and little children, Lee shoves the horror in our faces. I'm sure he sees this as the stark reality of war — but atrocities in a film call for more, not less artistry.
And after all the splatter, Lee ends by pouring on religious uplift. He does have his sights on Saving Private Ryan and The Longest Day, but Miracle at St. Anna often seems less about correcting their omissions than capturing their Oscars.
Correction
Oct. 15, 2008
The broadcast version of this story misidentified screenwriter James McBride. The text on this page has been amended.