Bush Confident Financial Deal Can Be Reached
At the Capitol on Friday, meetings continued behind closed doors to try to salvage the Bush administration's $700 billion bailout proposal. Opposition from House Republicans on Thursday had threatened to derail negotiations.
Those Republicans are at the bargaining table, and like a coach trying to rally his team at halftime, President Bush delivered a brief pep talk Friday, seemingly aimed at both Congress and the shaken markets.
"The legislative process is sometimes not very pretty, but we are going to get a package passed," Bush said. "We will rise to the occasion."
A response came on the Senate floor from one of the biggest champions of a financial rescue package, New York Democrat Charles Schumer.
"The president must get his Republican house in order by getting the House Republicans in line and asking Sen. McCain respectfully to leave town, because without Republican cooperation, we cannot pass this bill," Schumer said.
Democrats blamed both House Republicans and McCain's appearance at the Capitol on Thursday for derailing what had been touted as a deal on a bailout. They also skewered House Republican leader John Boehner for taking a competing proposal to the White House.
On Friday, Boehner came to his own defense. "I don't know what games were being played at the White House yesterday, ganging up on Boehner, but if they thought they were rolling me, they were kidding themselves," he said.
House Republicans were nonetheless more conciliatory on Friday. Roy Blunt, the party's No. 2 in the House, said he was joining bipartisan, bicameral talks to get a deal.
"We're going into these negotiations with every intention of having a real negotiation, of having a bill that House Republicans can vote for in solving this problem, and solving this as quickly as we can," he said.
New Hampshire Republican Sen. Judd Gregg said it's clear why negotiations got back on track Friday:
"I think anybody who got up this morning and looked at the markets — especially the credit markets — had to take a deep breath and say this is so serious we better do something," he said.
House Republicans are proposing both tax breaks and a privately funded mortgage insurance program as an alternative to a bailout. That got a thumbs down from Senate Majority Leader Harry Reid.
"Secretary Paulson has said that their proposal dealing with the insurance won't work," Reid said. "Now, whether he's going to say that publicly, you'll have to ask him, but that's what he's told us — it won't work."
Still, Reid said Congress could have a deal to vote on Sunday or Monday.
Lawmakers Lurch Toward Accord On Bailout Plan
A Day In Brief
On Thursday night, the government seized Washington Mutual, the nation's largest savings and loan, and sold much of the company to JPMorgan Chase for $1.9 billion. WaMu's downfall represents the largest bank failure in the history of the United States.
President Bush said on Friday that a bailout package to offer financial assistance to troubled financial services firms will be passed.
Talks continue on Friday between the administration and Congress to reach an agreement on the details of the bailout plan.
Sen. John McCain said he will attend the presidential debate in Mississippi on Friday night.
Stocks on Wall Street moved lower on Friday before closing in positive territory. The Dow Jones industrial average closed up 121 points at 11,143. But for the week, the Dow was down more than 2 percent and the S&P 500 was down more than 4 percent.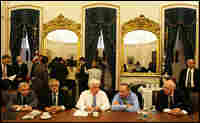 Democratic congressional leaders reported progress Friday afternoon in talks designed to hammer out legislation that would authorize a $700 billion federal bailout of Wall Street.
The negotiations were jump-started once House Republicans joined the talks — after first threatening to derail the Bush administration's financial rescue plan.
"Now we're back on track," House Speaker Nancy Pelosi said in a late-afternoon press conference following a negotiating session attended by House and Senate Republicans and Democrats.
Pelosi and Democrat Barney Frank of Massachusetts, chairman of the House Financial Services Committee, told reporters that significant progress has been made.
"I'm convinced that by Sunday we will have an agreement that people can understand on this bill," Frank said.
Pelosi added that "progress is being made" but did not divulge details of the talks, which continued into the evening. She said legislators would work through the weekend on the legislation.
Restarting The Talks
The Bush plan calls for the Treasury Department to buy illiquid debt from financial firms. The goal is to calm financial markets by removing the toxic assets, mostly mortgage-backed securities, that are at the heart of the crisis.
House Republicans have balked at the proposal. They say they want a workout for Wall Street, not a bailout. Alternative proposals from House Republicans include both tax breaks and a privately funded mortgage insurance program.
Still, House Republicans designated Minority Whip Roy Blunt to negotiate on Friday with the banking committee chairs and administration officials who have been trying to find consensus on the terms of a bailout. Blunt denied that House Republicans have held up a deal.
"Clearly, the Democrats have a majority in both houses of the Congress," Blunt said. "They want to do this by themselves; they can do this by themselves any minute they want to. If they want to do this with us, we're prepared to have that negotiation."
House Speaker Pelosi insists Republican support is needed to get a bailout bill through Congress.
The bailout talks stalled Thursday evening at a dramatic White House meeting that included presidential candidates John McCain and Barack Obama, as well as House and Senate Republican and Democratic leaders.
Before the meeting, congressional leaders had said they were close to a deal. Afterward, House Republicans said no deal.
President Bush expressed optimism Friday morning that negotiations would get back on track. Minutes after the opening bell on Wall Street, he said, "We are going to get a package passed. There is no disagreement that something substantial should be done. We will rise to the occasion."
Presidential Politics
After announcing earlier this week that he would not participate in Friday night's first presidential debate because he wanted to focus on the bailout talks, McCain changed course Friday, saying he would join Obama in Oxford, Miss.
Obama had said he would attend no matter what McCain decided to do.
The debate at the University of Mississippi is supposed to focus on foreign policy issues. But given the events of the past two weeks in the financial markets, moderator Jim Lehrer of PBS says he will not be constrained by the boundaries negotiated by the campaigns months ago.