Pick Of The Week: A Visit To The 'Chili Belt'
Science Friday looks back on last week's broadcast from the heart of the "chili belt" in Tuscon, Ariz.
IRA FLATOW, host:
Now, it's time for our Science Friday Pick of the Week. And Flora Lichtman is here. Hi, Flora.
FLORA LICHTMAN: Hi.
FLATOW: What have you got in our video on our website today? Our - what's this week's Pick of the Week?
LICHTMAN: This week, we traveled to the Chili Belt in - outside of Tucson, Arizona.
FLATOW: The Chili Belt.
LICHTMAN: Yes. It is a term I had not heard before we had gone.
FLATOW: We went there last week.
LICHTMAN: But we were there last week doing the show, and we visited with a tough chili-pepper breeder. So think like dog breeder.
FLATOW: Right.
LICHTMAN: But for chilies. So he's trying to optimize different traits, mostly related to eating, like thin skins and heat.
FLATOW: Mm-hm. Right. And he's got this big farm. There are acres and acres of chili.
LICHTMAN: It's like 1,200 acres and it's beautiful.
FLATOW: Wow.
LICHTMAN: It's in this - it's in the valley. There's mountains in the back, and it's in this valley where Cotchie Sindramano(ph) once roamed. So... ..TEXT: FLATOW: And you got the - you took a camera and show - did a little, nice interview, a nice piece with...
LICHTMAN: With Ed Curry. And he actually has a - he has a tip that we didn't get to in the video.
(Soundbite of laughter)
LICHTMAN: But here's a special extra for everybody who wants to look tough and eat chilies. So, the heat in the chili comes from this liquid called capsaicin. And you might think that it's in the seeds. But no, it's not. It's actually produced on the placenta wall, which is that white part... ..TEXT: FLATOW: Oh, that white part inside the wall, right?
LICHTMAN: Yeah. When you cut open a chili. Right. So if you want to look tough, take a really hot chili. Just avoid the white part and you can eat it and you won't have any spicy effects.
FLATOW: Wow. And you can see Flora's video on sciencefriday.com. That's our "Pick of the Week." Thank you, Flora.
LICHTMAN: Thanks.
FLATOW: We'll see you next week.
NPR transcripts are created on a rush deadline by Verb8tm, Inc., an NPR contractor, and produced using a proprietary transcription process developed with NPR. This text may not be in its final form and may be updated or revised in the future. Accuracy and availability may vary. The authoritative record of NPR's programming is the audio record.
Chile Peppers: The Science Behind The Spice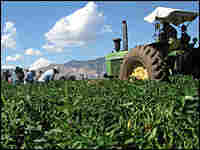 Science Friday broadcasts this week from the heart of the "chili belt" in Tuscon, Ariz. What makes peppers spicy? Why do some people love spicy foods? Researchers explain the chemistry of peppers and the psychology of spice.
Growing peppers isn't a low-tech task — farmers explain what goes into getting jalapenos from seed to shelf, and how science helps them to do it.
Guests:
Jeff Silvertooth, professor and head of the Soil, Water and Enviornmental Science department in the College of Agriculture and Life Sciences at the University of Arizona
Ed Curry, a farmer, and owner of Curry Seed and Chile Company
Gary Nabhan, research social scientist and adjunct professor at the University of Arizona, and author of Why Some Like it Hot: Food, Genes, and Cultural Diversity
Jean England Neubauer, owner of Santa Cruz Chili and Spice Company