What Strategies Will Biden, Palin Take In VP Debate?
Bill Pugliano/Getty Images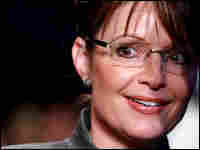 Spencer Platt/Getty Images
Sarah Palin and Joe Biden will meet onstage Thursday in St. Louis for the only vice presidential debate of the campaign.
Alaskan Gov. Palin has conducted only a few media interviews since she was picked as John McCain's running mate, and her weak performance in an interview last week with Katie Couric of CBS News has led some — including Republicans — to call on Palin to step down from the ticket.
Sen. Biden of Delaware is known for gaffes and long-winded answers that can get him in trouble.
So how do two experienced political strategists think the candidates should prepare?
Jennifer Palmieri, senior vice president of communications for the Center for American Progress, who worked on John Edwards' two presidential campaigns as well as in the Clinton White House, says she thinks Palin will come out fighting rather than try to prove she's ready to be commander in chief.
"I suspect that the campaign will decide to double down on the attack strategy," Palmieri says. "She was very effective in that at the convention. And the idea that you're going to prepare her in the next two days or even over the past week to pass the commander in chief test for most voters, I think it's difficult."
On the other hand, strategist Stuart Stevens, who was on the debate prep team for both George Bush and Dick Cheney, says he would advise Palin to speak to the middle class and talk about her personal experience.
"I think the goal would not to be make news — which is often for any debate, you don't want to make news," Stevens says. "I don't think you want the headline to be a foreign policy statement by Sarah Palin. ... She has be consistent, she has to be firm and she has to seem confident."
Rather than having the candidates engage each other, the debate will be set up more like a dual conversation with the moderator, PBS journalist Gwen Ifill.
That is key, because Palin will not have to engage in direct conversation with Biden about foreign policy, a topic that is one of his strengths but where she has exhibited weakness. But expectations are low for her in this regard, says Stevens.
"I don't think that anyone is going to assume that she's going to have the [same] depth of foreign policy experience as someone who has been on the Senate Foreign Relations Committee" as Biden is, he says.
Biden will try not to engage Palin in a debate regardless, says Palmieri, because he has to be mindful of coming across as condescending.
"I know that the campaign does think that you have to let Biden be Biden. ... Don't try to restrict him or script him too much," Palmieri says. "I'm sure he'll be on his best behavior."
Palmieri says she would encourage Palin to go out and speak at a public event on Thursday because "she seems to get energy and confidence from that." On the other hand, she would advise Biden to feel cautious: "You don't want him to be too comfortable."