In Portland: Plucky Teens, Polished Classics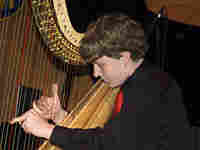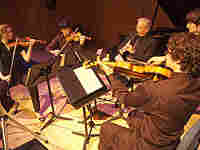 This week, seven classical teens take the stage at Reed College's Kaul Auditorium in Portland, Ore., where a 15-year-old harpist plays Carnival of Venice variations, an athletic young violinist offers music by Beethoven, and a self-proclaimed moody pianist pours her heart into dances by Bach.
Becky Anderson started playing the violin because she wanted to be just like her big brother.
"When I was little I wanted to do everything he did, so when he started to play violin at the age of five, I decided I wanted to play it too," she recalls.
Anderson, 17, grew to love the violin and now plays in the Portland Youth Philharmonic. She also participates in the Young Artist Fellowship Program at Chamber Music Northwest, a program where local students have a chance to work with the world-class artists who perform at the annual chamber music festival on the Reed College campus.
She plays music from the Sonata for Violin and Piano Op. 30, No. 3, by Beethoven, accompanied by host Christopher O'Riley .
Harpist Jeremy Keppelmann struggled with severe tendonitis in both arms for a full year before stumbling upon a cure, purely by chance.
"My mom wanted me to learn how to swim, so she enrolled me in lessons," he explains. "After a few weeks of swimming the tendonitis went away. Now I'm fit, I feel great, and I am a proud member of the Lakeridge Gold Swim Team!"
As much as he loves swimming, playing the harp is Keppelmann 's main focus, but when he was in middle school, it wasn't easy being a boy who played harp and loved classical music.
"It just wasn't cool, and kids were generally nasty to me," he recalls. "These days it's different. A lot of people think it's cool that I'm a male harpist. It stands out."
Keppelmann has performed concerts all over the U.S. and in Europe, and won first place on the TV talent show America's Most Talented Kids.
"I played 'Spaghetti Rag' and finished in a tie with a talented dancer," he recalls of the experience. "In the tie-breaking vote, I won."
He performs Variations on the 'Carnival of Venice', by Wilhelm Posse.
You wouldn't know it by her skill as a flutist, but practicing doesn't come easily to 15-year-old Jennifer Zhou.
"I try to get out of practicing all the time," she says. Every day Zhou complains that she doesn't want to practice and her mom bugs her until she finally caves in.
"It works," says Zhou. "I usually wind up practicing two to three hours a day."
Zhou performs the scherzo movement from the Sonata in D Major, Op. 94, by Sergei Prokofiev , accompanied by Christopher O'Riley.
Pianist Marika Bournaki describes herself as extremely moody.
"It puts me in a bad mood just to walk down the street and have to deal with all those slow people and strollers," she says.
Bournaki also has a zero-tolerance policy when it comes to "bad" pianos and has been known to flip out whenever she is expected to play one that doesn't seem up to par.
"First, I'll yell at my dad as if he's responsible for the bad piano, and then I'll cry, yell and demand that the performance be cancelled," she describes. Eventually Bournaki, 17, will calm down and the performance will go on. "I blow everything out of proportion," she admits. "I'm a bit of a drama queen."
Luckily, all this moodiness does have a positive side: Bournaki channels all that emotion into playing the piano with passion and power. She was chosen out of eight pianists worldwide to participate in the Verbier Academy and Festival. She is also the subject of a documentary film, an ongoing project that began when she was 11. Bournaki's teacher is the renowned Veda Kaplinsky at the Juilliard School pre-college division.
Bournaki performs Gavottes I and II and the Gigue from the English Suite No. 3, by J.S. Bach.
At the conclusion of the program, four teenage string players from the Portland area joined clarinetist David Shifrin, the artistic director of Chamber Music Northwest, to perform the Allegro from Mozart's Quintet for Clarinet and Strings, K. 581. All four of the young musicians — violinists Becky Anderson and Brandon Garbot, violist Griffin Gaffney, and cellist Boris Popadiuk — are participants in the Young Artist Fellowship program of Chamber Music Northwest.
Shifrin was impressed with the talent and conscientiousness of his young colleagues.
When asked about the future of classical music, he stated, "It's in good hands!"