Political Humor's Hysterical History
Political Humor's Hysterical History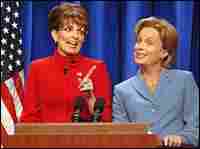 Dana Edelson/NBCU Photo Bank
If you have a computer or a television, you can hardly have missed the viral videos spoofing the presidential candidates and their running mates. Videos have a bit of fun with everything from Republican vice presidential nominee Sarah Palin's background to Saturday Night Live's weekly jabs at, well, everyone — like this sendup of John McCain and Barack Obama's first debate. Or this spoof of last week's vice presidential debate.
There's a whole flurry of funny stuff floating around out there, including elaborate flights of fancy by talented amateurs with a lot of time on their hands. Try this Obama Bollywood video with images of the Democrat seeming to lip-sync to a love song.
And then, of course, there are the glitzy, Hollywood-level productions by networks like NBC and Comedy Central. It's all very cutting-edge, but it's hardly new.
"We can go all the way back to ancient Egypt to find examples of political humor," says Jody Baumgartner, assistant professor of political science at East Carolina University. He says editorial cartoons have a long history.
"They were actually around since Colonial times, but didn't become really popular 'til the penny press in the mid- to later 19th century."
Older political satire was sharp, like Mark Twain's quip, "Fleas can be taught nearly anything that a congressman can." Whether or not today's humor is any more vicious, it is often more salacious, like this primary season video from Mad TV, which simulates an intimate relationship between Democratic presidential nominee Barack Obama and his former rival Sen. Hillary Clinton.
"It's gotten a lot tougher and bloodier through the years," says Gerald Gardner, a historian of presidential humor and former speechwriter for Robert F. Kennedy. In the mid-20th century, Gardner says, the leading practitioners of political humor were people like newspaper columnist Art Buchwald and TV comedian Johnny Carson.
"Political humor was kind of a benign art form at that time, perhaps because Buchwald knew he would lose newspapers, and Carson knew he would lose affiliates."
Gardner says that is likely the same reason that political cartoons in newspapers and magazines are fairly tame. Online and on TV, however, there are fewer censors or monitors at work. But when humor gets as explicit as the Mad TV video, aren't we undermining respect for national leaders? Isn't there some sort of line that just shouldn't be crossed?
"What's the line? I have no idea anymore — I don't know it 'til I've crossed it," says Lizz Winstead, a comedian, writer and co-creator of The Daily Show. She scoffs at the idea that politicians should be put on some sort of pedestal, and thinks it's the satirist's job to keep politicians in check with humor. One should always be skeptical of people who have amassed power, Winstead says.
"The fundamental problem with a politician is that they've assessed the world and looked in the mirror and said, 'You know what's wrong with society? I'm not in charge!' So right off the bat, you should not trust them," she says.
Gardner notes that both candidates and even sitting presidents incorporate humor into their speeches to polish their images or to make themselves look like regular folks. But he agrees it can go too far.
"You can make a case for the fact that humor — at least in politics — is most effective when it is drawing a little blood. Mind you, it shouldn't be a battle-ax, it should be a rapier."
He also says "thank heaven" for the comic relief that's injected into campaigns, especially marathons like this one. Otherwise, he says, it would be almost unendurable.