Democrats Lead In Presidential, Senate Contests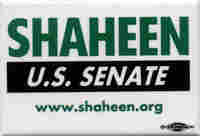 Less than a month to go and, at least as of this writing, the October Surprise is not the capture of Osama bin Laden or Russia invading New Jersey but how the economic downturn and the collapse of Wall Street have put a severe crimp in John McCain's hopes of winning the White House.
Just a month ago, in the wake of his selection of Sarah Palin as his running mate, the Republican ticket was thought to be ahead, not only in national polls but in the key battleground states. No longer.
For all the talk of McCain's experience or, conversely, Democrat Barack Obama's lack of it, the focus is now on the economy, the economy and the economy, and voters seem willing to give Obama a chance. Or at the least, they seem reluctant to entrust the Republicans with four more years.
Going into Tuesday's second presidential debate, we have Obama within a hair's breadth of the magic 270 electoral votes. The chart below shows our latest projections — which include states that are leaning in one direction or the other — and how the electoral votes would shake out. (For more detail, go to our interactive map).
In the battle for the Senate, Democrats are primed to pick up a minimum of four seats — with the potential for more. There are 35 seats at stake, with Republicans controlling 23 of them and Democrats, 12. Here's how they stand now; predicted changes in party control are in italics and tossups in bold. (For more detail, go to our interactive map).

REPUBLICANS: Alabama (Jeff Sessions), Alaska (Ted Stevens), Colorado (open, Wayne Allard), Georgia (Saxby Chambliss), Idaho (open, Larry Craig), Kansas (Pat Roberts), Kentucky (Mitch McConnell), Maine (Susan Collins), Minnesota (Norm Coleman), Mississippi (Thad Cochran), Mississippi special (Roger Wicker), Nebraska (open, Chuck Hagel), New Hampshire (John Sununu), New Mexico (open, Pete Domenici), North Carolina (Elizabeth Dole), Oklahoma (Jim Inhofe), Oregon (Gordon Smith), South Carolina (Lindsey Graham), Tennessee (Lamar Alexander), Texas (John Cornyn), Virginia (open, John Warner), Wyoming (Mike Enzi), Wyoming special (John Barrasso).

DEMOCRATS: Arkansas (Mark Pryor), Delaware (Joe Biden), Illinois (Dick Durbin), Iowa (Tom Harkin), Louisiana (Mary Landrieu), Massachusetts (John Kerry), Michigan (Carl Levin), Montana (Max Baucus), New Jersey (Frank Lautenberg), Rhode Island (Jack Reed), South Dakota (Tim Johnson), West Virginia (Jay Rockefeller).

And speaking of Senate races:

Q: Both Mississippi and Wyoming will be electing two senators this year. What is the largest number of states in one year to hold elections for both of its Senate seats on the same day? — Nathan Empsall, Hanover, N.H.

A: Crack NPR librarian Kee Malesky asked the same question just the other day. When I told her that I was planning to run your question, Kee decided to do some digging on her own. She came up with this:

The last time both Senate seats were decided on the same day in three states was in 1962. In Idaho, along with the regularly scheduled re-election bid of Sen. Frank Church (D), there was a special election to fill the seat of the late Henry Dworshak (R), which was won by ex-Gov. Len Jordan (R). Kansas voters re-elected Sen. Frank Carlson (R) and sent James Pearson (R) to the Senate to replace the late Andrew Schoeppel (R). And in New Hampshire, Sen. Norris Cotton (R) was re-elected, but the other seat went to Democrat Thomas McIntyre, who succeeded the late Styles Bridges (R).

Three states also had that distinction in 1954, but they entailed seven Senate races. Again we had New Hampshire, which re-elected the aforementioned Bridges and first elected the also aforementioned Cotton to replace the late Charles Tobey (R). In North Carolina, there were in fact two special elections: W. Kerr Scott succeeded the late Willis Smith, and Sam Ervin succeeded the late Clyde Hoey. All were Democrats.

It got a bit confusing in Nebraska, where there were actually three Senate elections on Election Day, all won by Republicans to replace deceased Republicans. Rep. Carl Curtis won the special election to replace the late Sen. Dwight Griswold, and Rep. Roman Hruska took the seat of the late Sen. Hugh Butler. But there was another Senate race on the ballot that year. After Griswold died, Eva Bowring, the vice chair of the Nebraska GOP, was appointed to fill the seat. According to state law, her appointment was only until Election Day, when a candidate would be elected to finish out the final two months of the term. Bowring decided she didn't want to run in that special special election. Hazel Abel, who succeeded Bowring as state party vice chair, won a 16-candidate primary in August and then beat a Democrat in November to serve until Jan. 3.

Tell me what other political column gives you such crucial information.

Q: What year did Abe Beame (mayor), Frank O'Connor (city council president) and Mario Procaccino (comptroller) run on the Democratic ticket in New York City? — Vincent Shea, Haworth, N.J.

A: The year was 1965. O'Connor and Procaccino were successful, but Beame lost the mayoralty to the Republican-Liberal candidate, Congressman John Lindsay. Lindsay became the city's first GOP mayor since Fiorello La Guardia left office after three terms in 1945.
YANKEE SCORE: Connecticut's Chris Shays, a phone guest during a recent Political Junkie segment on NPR's Talk of the Nation, is the only remaining House Republican from New England. That may not sound like a big deal, but let's put it in perspective: This is the first time ever there's only been one Republican in the House from the region. After the 1974 midterm elections, in which the GOP lost 43 seats in the wake of the Watergate scandal, there were still eight Republicans from New England. After the 1964 elections, in which President Lyndon Johnson trounced Barry Goldwater and Republicans lost 38 seats in the House, the GOP also had eight members from New England.

A further check of the history books showed that after the 1958 midterms, when the GOP lost 47 seats, there were nonetheless nine House Republicans remaining from New England. In 1948, the year when President Harry Truman had his comeback and the GOP lost (gulp) 75 House seats en route to losing control of the chamber, there were 17 Republicans from the region. Finally, in 1932, when FDR and the New Deal swept out President Herbert Hoover and Republicans suffered a net loss of (yikes) 101 House seats, left standing were 17 GOPers from New England.

P.S. Shays, who barely survived his 2006 election, remains a Democratic target this year. One Republican from the region who has a shot at returning to the House is New Hampshire's Jeb Bradley, who is running against the person who defeated him two years ago, Democrat Carol Shea-Porter.

ON THE CALENDAR:

Oct. 7 — Second presidential debate, Belmont University, Nashville, Tenn.

Oct. 15 — Third presidential debate, Hofstra University, Hempstead, N.Y.

Nov. 4 — ELECTION DAY

HELLO, COLUMBUS: Another episode of interesting conversation, useless trivia questions and sparkling jokes this Wednesday, when the Political Junkie segment appears on Talk of the Nation (NPR's call-in program). But this time, we're live from Columbus, Ohio. (So please don't show up at the Newseum.)

IT'S ALL POLITICS: Fewer jokes (whew), deeper analysis of the VP debate in last week's podcast, which you can hear here. New podcast every Thursday.

*******Don't Forget: If you are sending in a question to be used in this column, please don't forget to include your city and state.*********

This day in campaign history: Massachusetts Sen. John F. Kennedy and Vice President Richard Nixon held their second debate, in Washington, D.C. (Oct. 7, 1960). President Ronald Reagan and former Vice President Walter Mondale held their first debate, in Louisville, Ky. (Oct. 7, 1984).

Got a question? Ask Ken Rudin: politicaljunkie@npr.org.