Political Rewind: NPR's Best Election-Related Stories
"Political Rewind" is National Editor Muthoni Muturi's biweekly take on NPR's best election-related stories from the campaign trail and around the country.
Political Rewind, Dec. 18.
Stories: Robert Smith explores whether being Camelot's princess will get Caroline Kennedy elected to the Senate; Mara Liasson talks to people ready to overthrow the Electoral College; and Peter Overby reports that Cerberus, the firm that owns Chrysler, is ready for its share of the economic bailout.
Political Rewind, Dec. 12
Stories: NPR's David Schaper reports on the president-elect's calls for the Illinois governor to resign; David Folkenflik covers the allegations that Illinois Gov. Rod Blagojevich tried to have some editorial writers from the Chicago Tribune fired; and Tom Gjelten examines vacant, key posts in Obama's national security team.
Stories: Don Gonyea reports that Obama's cabinet is filled with friends and former foes; Jennifer Ludden talks to Latinos who voted for Obama; and Peter Overby looks at the future for the President-elect's supporters on the net.
Political Rewind, Nov. 24
Stories: David Folkenflik looks at how welcome the Fourth Estate will be in the Obama White House; Mara Liasson gauges the speed of Team Obama as they prepare to take the reigns; and Alison Keyes tells us why we need to save our pennies to stay in DC for the inauguration.
Stories: Don Gonyea is on hand when the Obamas tour the White House; Mara Liasson explores the future of Obama's technologically enhanced grass roots movement; Greg Allen explains how the Sunshine State went blue this cycle; and Howard Berkes talks with formerly Republican rural voters who made the decision to choose Obama.
Stories: Don Gonyea maps Barack Obama's road to the presidency; Scott Horsley examines McCain's defeat; and Mara Liasson tells us just what voters and experts expect from President-Elect Obama.
Stories: A mere long weekend is all that stands between us and Election Day. As you savor that thought, sample the best of NPR's political coverage from the last 72 hours: Mara Liasson examines the DNA of a pair of stump speeches; David Folkenflik discusses the "Obama-mercial"; and Peter Overby reports on the relatively minor role of independent groups in this election cycle.
Stories: NPR's Ina Jaffe reports on McCain's recent caution to voters; Audie Cornish covers Obama as he stumps in the battleground state of Virginia; and David Greene takes us into the bowels of two campaign rallies.
Stories: NPR's Linda Wertheimer reports from North Carolina where Republican Sen. Elizabeth Dole fights in a tough bid for re-election; Audie Cornish brings us another rough Senate battle from Louisiana; and David Green travels to West Virginia where voters struggle with issues of race.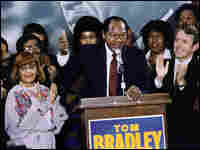 Stories: NPR's Mara Liasson explores the Bradley Effect and what it might mean for the Obama campaign. Don Gonyea introduces us to a union man on a mission to bridge a racial divide. Greg Allen previews the "The Great Schlep" by speaking with Jewish grandmothers.
Stories: Truth-squading the second presidential debate, partying with undecided voters in New Mexico and examining the Hoosier state's political identity crisis.
Stories: NPR's David Greene profiles the white ethnic voters of Pennsylvania who just might swing that state. And Mara Liasson offers her take on a changing electoral map and what that means for Barack Obama.
Stories: Ina Jaffe looks ahead to the vice presidential debate and nods to VP debates of the past; Jeff Brady reports on the political ads saturating Colorado; and Robert Smith takes us to Ohio, where early voting came with a few surprises.
Stories: Mara Liasson submits a post-mortem on the first presidential debate; NPR reports on the candidates' views on the proposed economic rescue plan; and Barbara Bradley Hagerty explores the delicate relationship between politics and the pulpit.
Stories: Mara Liasson takes a closer look at the presidential candidates and their temperaments. Barack Obama's campaign mantra is "no drama Obama." His rival, John McCain, is said to be both bold and aggressive. How will these two match up in the first debate?
Stories: Congressional Democrats say they're willing to help shore up the financial markets, but they want a bill that includes relief for homeowners and taxpayers, too. We also hear about the dirty tricks arriving in Florida voters' mailboxes and the battles on the latest front in the immigration debate.