Crowe, DiCaprio Clash In Tale of Spies And 'Lies'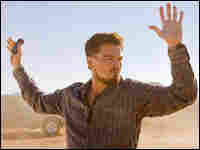 Francois Duhamel/Warner Bros. Pictures
Body of Lies
Director: Ridley Scott
Genre: Action
Running Time: 128 minutes
Rated R for strong language, violence and torture.
Body of Lies is a film in disguise — which is not necessarily a bad thing. But in this case, the disguise is better than what it's covering up.
The film details the life-and-death conflicts between a CIA field agent in the Middle East, played by Leonardo DiCaprio, and his handler in Washington, played by Russell Crowe. These characters are the twin poles of the film's moral universe.
The more appealing of the two is DiCaprio's CIA ace-on-the-ground. He speaks Arabic and values human life, even though he's prepared to take it if necessary.
Which is more than you can say for Russell Crowe's devious Washingtonian, a smug and arrogant creature of flabby immorality. Crowe gained 50 pounds to play the part. He shows once again that he's the rare major star who has a character actor's gift for submerging himself completely in eccentric protagonists.
Body of Lies is directed by the veteran Ridley Scott, so it's always crisp and watchable. But once this film's disguise of atmosphere and mood falls away, we're left with a plot that's unconvincing and too conventional to hold our attention.
Though set in Iraq, Body of Lies uses the war as little more than window dressing — a convenient setting for a story that could be told anywhere and anytime violence and deception are the name of the game. While dealing with Iraq more directly would be commercially risky, it might have given this film the focus it needs.