A Never-Ending Battle Over Farming With Chemicals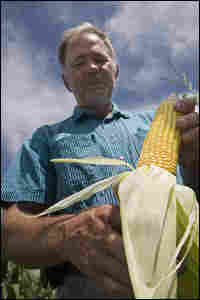 Elena Rue/Center for Documentary Studies at Duke University
Elena Rue/Center for Documentary Studies at Duke University
Elena Rue/Center for Documentary Studies at Duke University
American Family Farms
Learn more about the Griffieon family farm in Iowa and four other family farms through the public radio series Five Farms.
Farmers in the Midwest are preparing for a fall harvest of billions of bushels of corn and soybeans.
The Griffieons, who run a farm on 1,150 acres near Ankeny, Iowa, are among them. NPR is following Craig and LaVon Griffieon for a year to study life on an American farm.
In late summer, the Griffieons checked on the crops they planted in May. There are two types: the crops that were treated with chemicals, and those that grew organically.
Craig sprays his corn and soybeans with chemicals. But at LaVon's request, he reserves a small 10-acre plot of land for experiments with organic farming.
Craig Griffieon says the corn doesn't look as good in the areas where it drowned in the heavy rains this summer. "But for the most part, where we are right now, it's a dark, lush green, and the corn stalks are probably 8-foot, 9-foot tall," he says.
Craig pulls off an ear of corn and husks it. The kernels are pollinated nearly to the end. He says there are 18 kernels around, a "pretty girthy" ear. The crop is about average, he says, around 130 to 160 bushels an acre.
There are no weeds in the field, because Craig put a pre-emergence chemical called Dual on the crops, he says. Later, he put a chemical called Marksman on the crops, which kills the broadleaf weeds.
LaVon Griffieon says she grew up on a small, 80-acre farm, and her parents did not put chemicals on their weeds.
"My dad's idea of weed control was me and a weed hook; and [Craig's] dad's idea of weed control is pesticides and herbicides, and things that you sprayed," she says. "We just didn't do that at our house."
LaVon spends time growing potatoes in a garden plot. She says it take 250 pounds of potatoes to feed her family over the winter.
"I like to have the organic potatoes," she says.
LaVon also has carved out her own plot among Craig's acres of chemically grown corn — what Craig jokingly calls "LaVon's field" — because she says Craig doesn't know how to grow organic crops and doesn't "care to learn."
"We have a conventional farmer that tries to keep his wife happy by having 10 acres of organic," LaVon says. "Actually, I think this looks better than it has some years."
LaVon says her husband doesn't sit up at night reading books about how to grow things organically. Craig replies defensively that he reads articles in magazines about organic farming.
"There are people out there that get 160 and 170 bushels per acre on organic," LaVon says. "It's a science, and it's a different type of farming than what Craig does."
Craig and LaVon put manure on the organic crops, but no chemicals. They also cultivated the field early, and again after the weeds started growing.
"[Organic farming] is more labor intensive, it's more fuel intensive, as far as the fossil fuels you have to use," Craig says.
"And it might all look even in the end, if you don't look at those extenuating circumstances of too much nitrogen in the water and, you know, just the environmental impacts of pesticides and herbicides," LaVon says.
Craig examines an ear of corn as he husks it. There are 14 kernels around on his, while there are 16 around on LaVon's. But LaVon's is much smaller: half the size of the one that had chemicals sprayed on it.
"It isn't a bad-looking ear of corn," LaVon says. "It doesn't compare to his chemically fertilized and chemically manicured corn ... [It's] probably not good enough to ever win him over, but we haven't really concentrated our efforts on learning how to do this right, either."