Report: Taliban Gaining Strength In Afghanistan
Read The NYT Article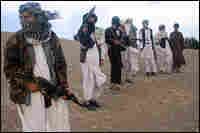 A draft report by U.S. intelligence agencies says the situation in Afghanistan is in a "downward spiral" as Taliban fighters threaten stability in the region.
The classified National Intelligence Estimate, or NIE, won't be released until after the November presidential election. But government officials who reviewed it described its contents to New York Times reporters.
"For the first time in many years, the intelligence agencies of the U.S. government have come together and have said in the most comprehensive way that the U.S. and allies and Afghan government are in danger of 'losing' Afghanistan, essentially," says Eric Schmitt, who covers terrorism and national security for the Times.
Schmitt tells NPR's Melissa Block, "This is not a phrase or assessment that intelligence analysts use lightly."
According to the report, the Taliban's strength is increasing. They are conducting more sophisticated attacks against U.S. and NATO troops in Afghanistan, and they are increasingly encroaching on governance throughout the country. Al-Qaida, which has built safe havens across the border in Pakistan, is also supporting and training Taliban fighters and "working more closely than ever" with them, Schmitt says.
One solution to help staunch the Taliban's growth is to "boost and bolster" the district and provincial governments in Afghanistan, even engage tribal leaders, Schmitt says.
"[It's] something that this administration shied away from, but now see as one of the last possibilities for holding on and keeping the Taliban at bay," Schmitt says.
Increasingly, the U.S. military and NATO are looking at how the military can step in and help the counterinsurgency efforts.
"The U.S. is trying to influence the government of Afghanistan to do more on the governance side," Schmitt says. "There is a big push to double the size of the Afghan National Army and increase the competence of the Afghan National Police, to try to make this more of an Afghan solution long-term."