Air Bag Fraud: Underreported 'Life And Death Scam'
Air Bag Fraud: Underreported 'Life And Death Scam'
Richard Diklich/Automotive Technical Support Services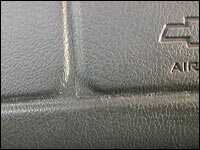 Richard Diklich/Automotive Technical Support Services
Richard Diklich/Technical Support Services
The Investigation Continues
The next time you buy a used car or go to an auto repair shop, will your car have working air bags when you drive it away?
Lynette Loretto, a mother of three who lives in an Indian pueblo in Jemez, N.M., didn't know that the shiny yellow Chevy Cavalier she bought from a used-car dealer was a potential death trap. When she found out later that the car had been in an accident and didn't have working air bags, she says it made her skin crawl.
"I went hysterical," Loretto says. "I drove my daughters in that car a couple of times. ... If something were to have happened to us ... that would have been awful."
A Weekend Edition investigation shows that some unscrupulous auto repair shops have victimized consumers by failing to replace air bags that had deployed in a crash. The investigation also reveals instances in which used-car dealers sold cars without working air bags.
In some cases, air bag compartments have been stuffed with beer cans, paper or packing peanuts. Sometimes the original, faulty air bag is just pushed back in. And sometimes the air bag isn't replaced at all, leaving the compartment empty.
Although the number of such victims is unknown, the consequences can be tragic.
In 2003, Laura Vega of Houston was badly injured and her mother killed when their Mercury Sable was hit head-on — and neither air bag worked. On the passenger side of their vehicle, the used air bag had been stuffed back in and the cover taped shut. On the driver's side, there was no air bag at all.
The same year, Damaris Gatihi, a 50-year-old nursing assistant who was going to school to become a nurse, died in a crash in Seattle. It turned out that the air bag in her used Toyota Corolla hadn't been replaced after a previous accident. Instead, the dealer who sold her the car had cut out the air bag and created a fake cover for the dashboard.
Strange Noises And Sensor Lights
Loretto thought the Chevy she saw for sale on the side of the road in Albuquerque, N.M., was in good shape. It looked nice from the outside. And she says the used-car dealer who sold it to her said it was working fine. But soon after Loretto drove the car home, she realized it had many mechanical problems that the dealer didn't mention.
"It was making weird, like, racking noises and stuff," Loretto recalls. "And the air bag light was on." She says the dealer told her it was a faulty sensor. "It was just one thing after another after I got it home."
Loretto's uncle had the car taken to a mechanic, who discovered the car had been in a bad accident — a detail the dealership had neglected to mention. The biggest shock, however, came when they opened up the air bag compartment.
Paper had been crammed into the driver's side compartment where the air bag should have been. On the passenger's side, the original, used air bag had been simply stuffed back inside.
Hidden, Silent Killer
While most used-car dealers and auto repair shops install new air bags properly, experts caution that not all of them can be trusted.
No one collects data on the number of air bag fraud cases — not even the insurance industry.
But in January, the National Highway Traffic Safety Administration issued a report that reviewed 1,446 fatal crashes and found that in 255 of those cases, the air bags had not been replaced after a previous accident. An agency spokesman said that although NHTSA didn't look into why they were missing, officials believe that at least some of those cases involved air bag fraud.
"We have a life-and-death scam on our hands ... just waiting to be discovered," says Jim Quiggle, director of communications for the Coalition Against Insurance Fraud, a nonprofit alliance of insurance companies and consumer groups. He is frustrated because it is so hard to pin down the number of air bag fraud cases.
"Unfortunately, until the data bubble to the surface and give us a quantitative sense of what this is about, it's always going to be the hidden, silent killer," Quiggle says.
So why aren't there credible statistics tracking air bag fraud?
"The feds have taken a relatively arms-length approach," Quiggle says. "They're not involved in the sense that they're keeping air bag fraud data." In addition, he says, insurance companies, states and police accident reports generally don't record enough detail to be meaningful or useful.
"So you have this data black hole," Quiggle says, and it's hard to make a case for a problem that can't be quantified.
Fraud In The Repair Shop
Insurance money is a big reason for air bag fraud, experts say.
"Crooked body shops are committing this scam as an insurance scheme," Quiggle says. He has seen cases where air bags are removed and replaced with tennis sneakers and cigarette packages. The shop then charges the insurance company for a replacement bag, leaving the driver without protection in case of a crash.
Greed motivates the fraud, Quiggle says. "What they want most is that $3,000 or $4,000 or $2,000 from the insurance company. And that's what they're getting."
Here's another scenario: A shop orders a new air bag and bills the customer but never installs it. Instead, the shop sends the air bag back to the manufacturer and gets a full refund. This scam is hard to spot, Quiggle says, "because the lid is sealed on the air bag compartment, and unless you're checking, nobody's going to be wiser."
Black Market Air Bags
Air bags are also hot commodities on the black market.
Insurance fraud experts say that thousands of air bags are stolen each year. A new air bag, which retails for $1,000 to $3,000, can go for $50 to $200 on the black market.
There are thousands of ads for used air bags on eBay. Prices start at $4.99. You can also buy all kinds of components on the Web, including knockoff air bags, fake air bag covers, and devices that will override air bag warning lights.
Quiggle says it's never a good idea to buy air bags on the Internet.
"Putting an air bag in is almost like neurosurgery," he says. "The air bag should be very carefully calibrated to the model, the make of the car ... and in many cases even the month."
"It's got to be very, very precise to assure that the air bag works exactly the way it's intended by the manufacturer," Quiggle warns, "So to simply pull something off the Internet, stuff it in there, and say, 'Gee, you're safe,' is taking your life in your hands."
Making sure that you have working air bags should be top priority when you have your car repaired after a crash or buy a used car, he says.
"Anytime you step inside a car, the life of your family, your children, yourself could be on the line," Quiggle says. "You could be driving a vehicle that's a hand grenade on four wheels."
Produced by Charla Bear