Hoping To Be The Great Pumpkin
Hoping To Be The Great Pumpkin
Tensions were palpable in Saturday's great pumpkin weigh-off in Warren, R.I. Steve Connolly has spent the summer feeding his pumpkin liquid fish and manure. Connolly's orange beast weighs nearly 1,800 pounds and he's hoping that's enough to edge out last year's champion grower.
ANDREA SEABROOK, host:
Now, the moment you've all been waiting for, at least all of you who listened to yesterday's All Things Considered, the story of competitive pumpkin grower Steve Connolly. He competed today in the annual pumpkin weigh-off. And I talked to him earlier just as the competition was wrapping up. Mr. Connolly, did you win?
Mr. STEVE CONNOLLY (Engineer): Yes, I should.
SEABROOK: Congratulations.
Mr. CONNOLLY: Yeah, I grew the largest pumpkin in the world this year. It's a 1,568 lb pumpkin.
SEABROOK: I know that you were up against the previous world record holder here, Joe Jutras.
Mr. CONNOLLY: Actually, I'm up against the last two previous world record holders. That's from the Southern New England Giant Pumpkin Growers. We've held the world record the last two years in a row.
SEABROOK: Proving that there's a club for everything. What is the name of the club again? SEABROOK: Why pumpkins?
Mr. CONNOLLY: Pumpkins are big. That's why.
SEABROOK: Good answer.
Mr. CONNOLLY: Yes, I'm just learning as we're speaking that they might be calling it an exhibition pumpkin. They're questioning the legality of it right now.
SEABROOK: Why?
Mr. CONNOLLY: Well, people are tapping me on the shoulder saying that they might have discovered a small crack in a pumpkin. So, I'm in holding pattern. I have to get input from the judges, but it's still the biggest one ever grown in the world this year.
SEABROOK: Steve Connolly, good luck.
Mr. CONNOLLY: All right. I'll need it because these judges are pretty strict.
SEABROOK: All right. Pumpkin master Steve Connolly speaking with us from the Frerichs Farm Annual Pumpkin Weight Off in Warren, Rhode Island. Thank you, Mr. Connolly.
Mr. CONNOLLY: Yup. Thank you very much.
In the end, Steve Connolly was disqualified because of that little crack. Cheer up, Steve. There is still time to carve a really big jackal lantern. In the spirit of the great pumpkin, we give our parting words tonight to Charlie Brown. He wrote, there are three things in life that people like to stare at - a flowing stream, a crackling fire, and a Zamboni clearing the ice. Thats All Things Considered. I'm Andrea Seabrook. Have a great Saturday night.
NPR transcripts are created on a rush deadline by an NPR contractor. This text may not be in its final form and may be updated or revised in the future. Accuracy and availability may vary. The authoritative record of NPR's programming is the audio record.
Exploding Pumpkins: Gourd, What A Mess
Exploding Pumpkins: Gourd, What A Mess
Steve Connolly was about to enter an 800-pound pumpkin into a contest when he noticed that it had started to burst. He decided to speed up the process by splitting the pumpkin open with an ax. When he broke through the rind, 30 to 40 gallons of juice gushed out around his feet and sounded, he says, like a bubbling brook.
Watch Connolly smash open his giant pumpkin.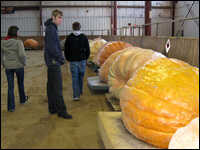 Armand Michaud was tending his pumpkin patch when he heard something eerie.
"I heard like a pfffff, and I looked around, and I thought 'What the heck is that?'" he says. Then he saw a 2-foot crack in one of his giant pumpkins.
"I could put my arm right up in it," he says.
Michaud had just witnessed a bizarre phenomenon plaguing New England — exploding giant pumpkins.
Each year, thousands of pumpkin growers compete to grow the biggest pumpkin the world has ever seen. Just last year, a world record was set by Joe Jutras of Rhode Island. His pumpkin weighed 1,689 pounds.
This year, Steve Connolly, an unassuming engineer from suburban Massachusetts, is out to shatter the record by more than 100 pounds.
In the middle of Connolly's front lawn sits a pumpkin nearly the size of a stagecoach or an old Volkswagen beetle. He calls it the "Beast from the East," and he's been coddling it for months. Connolly – who refers to the pumpkin in the feminine — feeds "her" a diet of liquid fish, seaweed, compost, grass clippings, guano and manure. At night, he covers the pumpkin with queen-sized blankets to keep it warm.
All of Connolly's hard work has paid off. His pumpkin is measuring close to 1,800 pounds. But there's one possible glitch: The pumpkin won't be weighed until the Frerichs Farm weigh-off on Saturday.
Based on Connolly's experience, there's a chance she won't make it.
Connolly grew five pumpkins in his patch this year, and four of them have exploded. Two pumpkins burst just days before a major competition.
"It's what happens. It's one of the drawbacks of extreme gardening," he says.
A giant pumpkin can put on around 40 pounds a day. If there is too much rain, some pumpkins overindulge and begin packing on closer to 50 pounds a day. As the pumpkins expand, pressure builds on the weaker parts of the rind and suddenly they blow.
A few feet away from the Beast from the East sits a pile of rancid pumpkin waste — the remains of a 1,300-pounder Connolly was set to take to the Topsfield Fair weigh-off last weekend. He was devastated, but he's trying to keep perspective
"It's something that gets a lot of TLC, that's for sure, but it's still a fruit. It's still a fruit. And you have to treat it as such," he says.
It's not just giant pumpkins that have had a bad year. Smaller field pumpkins (the jack-o'-lantern kind) are suffering, too.
More than 1,000 New England farms grow pumpkins, and some of them have done just fine (which is to say that despite the rainy weather, there should not be any shortages this fall). But many farmers, especially those with low-lying land, have taken a real hit.
Bill Clark is a 10th generation farmer in Danvers, Mass. His family has been farming this land since 1728. This year, he lost 4 acres of pumpkins from the heavy rains.
"I've been working this field since I was a kid — 55 years or so — and I've never seen it as wet as it is," he says.
Pumpkins can yield $5,000 an acre, so this is a real loss.
The rain breeds disease and rot in the patch.
Clark points to a mound of pumpkin mush in his field, which he says should be a pumpkin worth $10. That kind of rot is characteristic of what happened throughout his farm.
The Clark farm stand is a beloved institution in town. Usually, he is able to stock about a third of it with his own pumpkins and designer squash. But this year, Clark is down to 5 to10 percent. He imported the rest of the pumpkins and squash from a farm in Vermont. Like a lot of farmers, he says, he'll be doing a lot of soul-searching this winter to decide if pumpkins are worth it next year.
While this year's pumpkin crop is a bust for the Clark farm, Connolly is hoping that the Beast from the East will redeem his pumpkin season.
"Knock on wood," Connolly says. "You get a salt shaker. I'll get a rabbit's foot — all that good stuff — because I don't want to jinx myself."
If she doesn't blow first, this could be the great pumpkin he's been waiting for.