Avast Ye, Downloaders: The Pirate Czar Is Coming
Avast Ye, Downloaders: The Pirate Czar Is Coming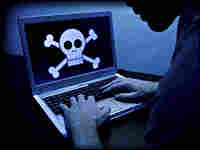 Linda Holmes dissects pop culture at the new NPR blog Monkey See and writes the column The Law In Real Life at GetLegal.com.
Beware, music copiers and furtive downloaders of obscure reality shows: the Pirate Czar is coming.
The Pirate Czar will protect giant media companies from ... well, from you.
The newly created federal job is more commonly called the "intellectual property czar." That's snappier than the official name, "intellectual property enforcement coordinator," but not as good as "Pirate Czar," which is more fun — and more menacing.
The Pirate Czar would be part of the new interagency intellectual property enforcement advisory committee, which is in charge of the joint strategic plan against counterfeiting and infringement.
And that, you see, is meant to stop you from illegally downloading episodes of Dancing With The Stars.
Unfortunately, unauthorized file sharing is wildly entrepreneurial and adapts with catlike agility. You know what's not going to adapt with catlike agility? The interagency intellectual property enforcement advisory committee's joint strategic plan against counterfeiting and infringement. It's the way of the Internet to move quickly; it's the way of joint strategic plans to be five years out of date.
Look at the changes in online video in just the past year. Last October, watching free TV online mostly meant unauthorized downloading, or YouTube, or clumsily designed network-TV sites that made everything look like it was shot on a cell phone.
Now there's Hulu.com, which launched seven months ago. Hulu shows free, legal video, including new shows, old shows and movies. You may have been there to watch the Web-only musical Dr. Horrible's Sing-Along Blog. (Or Tina Fey's impression of Sarah Palin.)
Even the Internet Movie Database, one of the online world's grizzled veterans, shows full TV episodes now. You could always go there to learn that Kathy Bates was once on The Love Boat. Now you can go there and watch the actual video of Kathy Bates boarding the ship.
Forming a committee to write a strategic plan to battle Internet piracy is a little like forming a committee to write a strategic plan to battle an alien invasion: You probably don't understand the threat; by the time your plan is written, you will have already lost; and as appealing as combat looks, the answer may well lie in diplomacy.
There's no question that unless creative people get paid for content, there won't be any. But there's not much reason to hope that the long-term solution lies in strategic planning by the Pirate Czar, the FBI and the Department of Homeland Security. Nevertheless, feel free to wish the Pirate Czar good luck, and to throw in a hearty "Yo-ho-ho and a bottle of rum."
And don't worry: That's in the public domain.