Kids' Strings Sing At The Heifetz Institute
Kids' Strings Sing At The Heifetz Institute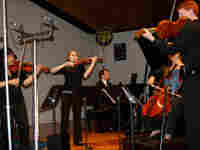 This week, from the Heifetz International Music Institute in Wolfeboro, N.H., the line-up of young musicians includes a quartet of string players tackling a Robert Schumann classic, and a speed reading 16-year-old violinist playing Bazzini's virtuosic Round of the Goblins.
Sixteen-year-old Cellist Rainer Crossett not only feels comfortable performing in public, he also feels comfortable talking in public. Crossett spent his summer at the Heifetz Institute, where he says public speaking is a big part of the curriculum.
"We have a course on it, and before every performance we get up in front of the audience and talk about the piece we're about to perform so the audience can enjoy it more." Crossett competed on the public speaking team at his middle school and recently took a speech class at Phillips Academy in Massachusetts, where he attends high school.
Crossett performs Requiebros by Gaspar Cassado, accompanied by host Christopher O'Riley.
Violinist Benji Bae describes himself as "the life of the party times 1000," due to his superb conversational skills.
"I can carry on a conversation forever," the 16-year old says. "I get easily sidetracked, though, and I connect totally out-of-the-blue random topics which, at the time, seem like great connections!" Bae's other passions are speed reading and break dancing.
Bae started violin lessons at the age of four and loved the attention it brought him. He soon started to love classical music, and he hopes to inspire other kids to develop an appreciation for it.
"I think if kids were properly introduced to classical music," he says, "they would become interested."
Bae plays the devilishly difficult La Ronde des Lutins (Round of the Goblins) by Atonio Bazzini, accompanied by O'Riley.
Violist Alex Grimes, 17, is part of the prestigious National Symphony Orchestra's Youth Fellowship Program in Washington, D.C. and is the co-principal violist in the American Youth Philharmonic in Virginia. He also travels weekly to Philadelphia to participate in the Newman Quartet, based at the Settlement School.
But Grimes also enjoys some activities that have nothing to do with classical music.
"I especially like playing paintball with my friends," he says. "A few months ago I drove out to a paintball tournament in my Ford F-150 blasting heavy metal the whole way, and that evening I went to see Verdi's Rigoletto at the Kennedy Center. My dad calls me 'Renaissance Kid.'"
Grimes plays music from Schubert's "Arpeggione" Sonata, accompanied by O'Riley.
Seventeen-year-old pianist Shiya Wang shares a fascinating trait with composers Franz Liszt, Olivier Messiaen, and Nikolai Rimsky-Korsakov.
"When I hear music, I see colors," explains Wang. The condition, called synesthesia, is most common among creative artists, and something Wang first noticed when she was a little girl. "When I was in Kindergarten, I remember asking my mother what 'note' the floor was in," she recalls.
Wang studies piano through the Juilliard Pre-College Program, and she's the recipient of the Jack Kent Cooke Young Artist Award. She will receive an award of $10,000 to help her continue her music studies and assist her with music-related needs.
Wang plays La Danse D'Olaf by Riccardo Pick-Mangiagalli.
Four teenagers spending the summer at the Heifetz International Music Institute got together to perform music by Schumann.
The students include: seventeen-year old violinist Kuan-Yu Annie Chen, originally from Taiwan but studying at the Walnut Hill School in Mass.; 16-year-old violinist Leah Nelson from Woodinville, Wash.; 17-year-old violist Alex Grimes from Alexandria, Va.; and 17-year-old cellist Clare Monfredo from Seal Harbor, Maine. Along with Host Christopher O'Riley on piano, the quintet performed the first movement of Schumann's Piano Quintet, Op. 44.