In Hard Times, Michigan School Running On Empties
In Hard Times, Michigan School Running On Empties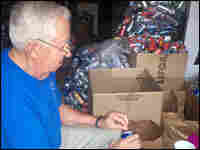 In the small town of Paradise on Michigan's Upper Peninsula, John Dreves is known simply as the "Can Man."
People in the community save cans for him. He collects cans at school events. And he has turned the simple idea of a returnable can into a moneymaking machine for the local school.
"We're on the lookout all the time," Dreves says of himself and his wife, Zelna, who helps him as they drive around in their Chevy Suburban.
"There's a can, there's a can," Zelna says, spotting one on the side of the road. "If we're going somewhere, then we come back — well, we got to remember where they're at so we can stop and pick them up."
When he isn't out looking for cans or collecting them from local supporters, Dreves can be found in his garage — also known as "Sorting Central," according to the sign outside — surrounded by cans.
"So I have to make sure there's a 10-cent return on them, that's all," Dreves says. He makes sure the bottles are empty and places them in a box. If the cans are crushed, he presses them out. "Other than that, I just keep busy at it."
Busy to the tune of 162,000 cans and counting. Dreves began collecting four years ago when he helped Whitefish Township School raise $400 in a can drive. Now, the retired postal worker averages $400 in cans nearly every month.
He donates the money to the sports teams at the school, which has 52 students enrolled in kindergarten through 12th grade — all in a building with one hallway and a gymnasium the size of a tennis court. Over the years, Dreves has donated more than $16,000 to the school — equivalent to one year's sports budget.
The money is appreciated by students such as Jameson Pigeau, one of three sixth-graders who had to be called up to form a varsity soccer team. As Pigeau played one of his last home games of the year — wearing a uniform purchased with Dreves' donations — high school students Alyssa Ackerman, Kaylee Sluyter and Bethany Hayes had nothing but glowing things to say about Dreves from the sidelines.
"I love him. He's amazing. He's awesome. He gives our money for the sports boosters. If it weren't for him, I don't think we'd have half the uniforms we have and everything like that," the girls said, talking over each other. "He's the sweetest man alive. I love him."
Superintendent Pat Rowley said the gift affects far more than players on a field.
"Sports is so much more than just playing a game," he said, watching the soccer game. "I mean the life skills, the dedication to a cause, the teamwork, cooperation, the respect. The pride. I mean, look at this."
Dreves agrees. He says that even though these students go to a tiny school, they should still have opportunity. He wants to keep supporting them — one dime at a time.
"Anything I can do, not for only myself, but it's for the town of Paradise," he says. "The school. The kids."
Amy Robinson reports from WMCU.