Obama Tax May Not Hit 'Joe The Plumber' Hard
An Ohio plumber named Joe Wurzelbacher has been cited by the McCain campaign as the type of person who could be hurt by Barack Obama's tax plans. Wurzelbacher is hoping to buy a plumbing company he works for and that could put his income above $250,000. But he could make many business deductions before reaching that threshold and even if he exceeds it, he probably wouldn't face a major tax bite.
MICHELE NORRIS, host:
If you watched the debate, you heard one name over and over and over again, Joe the plumber. It all started when Joe recently grilled Barack Obama at a campaign stop about how Obama's tax plan would affect him. At the debate, McCain claimed his tax proposal would be more favorable to Joe. Here's NPR's John Ydstie to set the record straight about what each candidate's plans would do for the suddenly famous Ohio plumber.
JOHN YDSTIE: Joe Wurzelbacher's 15 minutes of fame began this weekend, when he buttonholed Senator Obama during the candidate's visit to his neighborhood near Toledo. The moment was captured on video and posted on YouTube.
Mr. JOE WURZELBACHER (Joe the Plumber): My name is Joe Wurzelbacher.
Senator BARACK OBAMA (Democrat, Illinois, 2008 Democratic Presidential Nominee): Good to see you, Joe.
Mr. WURZELBACHER: I'm getting ready to buy a company...
Senator OBAMA: Yeah.
Mr. WURZELBACHER: That makes $250 - $280,000 a year.
Senator OBAMA: All right.
Mr. WURZELBACHER: Your new tax plan is going to tax me more, doesn't it?
Senator OBAMA: Well, here's what's going to happen.
YDSTIE: Senator Obama goes on to explain that, if Joe buys the business and makes more than $250,000 a year, he would likely be taxed more under Obama's plan than under McCain's. For instance, if Joe were to make $270,000, his tax bill on that extra money would be $600 higher under Obama's plan than under McCain's.
But there are a number of things to consider here, says Bill Gale, co-director of the Tax Policy Institute. First, when Joe tells Obama that the firm makes about $270,000 a year, it's not clear if that's the amount the firm earns before or after expenses. That's important, says Bill Gale.
Mr. BILL GALE (Co-Director, Tax Policy Institute): Anything like rent or payments to workers or health insurance or supplies or investments, most small businesses can deduct all of that.
YDSTIE: So if the $270,000 the business earned was before expenses, it's likely Wurzelbacher's taxable income would quickly drop below $250,000. In that case, he'd do better under Obama's plan than with McCain's. In fact, Bill Gale says 98 percent of U.S. small businesses have taxable incomes under $250,000 and would get greater relief under Obama. Given his current salary, Joe Wurzelbacher shouldn't lose much sleep worrying about paying more taxes under Obama. He told Diane Sawyer on ABC's Good Morning America his income doesn't yet meet his aspirations.
Ms. DIANE SAWYER (Anchor, ABC's Good Morning America): To get straight here, you're not taking home $250,000 now. Am I right?
Mr. WURZELBACHER: No, no. Not even close.
YDSTIE: And Wurzelbacher admitted to The Associated Press he doesn't have a good plan to buy the plumbing business. He does work for Newell Plumbing and Heating in Toledo, which has a work force that consists of owner Al Newell and him. Bill Gale says that, actually, Wurzelbacher is exactly the kind of worker that Barack Obama is trying to target with his tax plan.
Mr. GALE: It's kind of ironic that he went after Senator Obama, and it's even more ironic that Senator McCain used him as an example because he's a perfect example of a taxpayer that will get a tax cut under Senator Obama and won't get a tax cut under Senator McCain.
YDSTIE: But Wurzelbacher seems more concerned with money he might make in the future than his tax bill now. He told Diane Sawyer, people who earn more should be able to keep what they make.
Mr. WURZELBACHER: Why should they be penalized for being successful? I mean, that's what it sounds like you're saying. That's wrong. I mean, because you're successful, you have to pay more than everybody else?
YDSTIE: It's clear the man now known worldwide as Joe the Plumber doesn't like paying taxes at all. In fact, Bloomberg news reports today that he owes the state of Ohio $1,200 in back taxes. John Ydstie, NPR News, Washington.
NPR transcripts are created on a rush deadline by Verb8tm, Inc., an NPR contractor, and produced using a proprietary transcription process developed with NPR. This text may not be in its final form and may be updated or revised in the future. Accuracy and availability may vary. The authoritative record of NPR's programming is the audio record.
Candidates Strongly Differ on How to Tax the Rich
Comparing Tax Policies
McCain:
All households would receive some type of tax break under McCain, with the biggest breaks going to the top 1 percent of wealthy households. For instance, households earning $3 million a year would get, on average, a tax break of close to $270,000.
Taxpayers making between $160,000 and $225,000 would get a $4,400 tax break on average.
Families making less than $20,000 would get about a $19 break.
All households, except those in the top 5 percent of the income scale, would benefit from Obama's tax cuts.
Taxpayers earning between $160,000 and $225,000 a year would, on average, see their taxes reduced their taxes by $2,800.
Households making less than $20,000 would, on average, get a $570 break.
Source: Tax Policy Center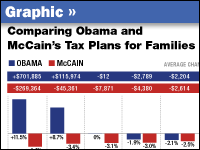 Mandel Ngan/AFP/Getty Images
Economic Advisers
McCain: He is advised by a team of business people and academics, including Douglas Holtz-Eakin, an unpaid adviser and the former head of the Congressional Budget Office; Carly Fiorina, the former CEO of Hewlett-Packard; Phil Gramm, a former Texas senator and economics professor at Texas A&M University; and Meg Whitman, the campaign finance co-chair and former CEO of eBay.

Obama: His chief economic adviser is Austan Goolsbee, a University of Chicago economist. Jason Furman is his economic policy director. Furman worked for former Democratic presidential candidate and Massachusetts Sen. John Kerry. He previously headed The Hamilton Project at the Brookings Institution, founded by Robert Rubin, the former secretary of the Treasury.
Chip Somodevilla/Getty Images
Darren Hauck/Getty Images
On the campaign trail this week, Illinois Sen. Barack Obama and Arizona Sen. John McCain have focused on the economy, including their tax proposals.
According to an independent analysis of their plans by the Tax Policy Center in Washington, both would cut taxes overall. The analysis concludes that McCain's tax cuts would primarily go to high-income Americans, while Obama's would favor low- and middle-income households.
A big chunk of the tax-cutting done by both McCain and Obama would result from simply continuing President Bush's big tax cuts — which would otherwise expire at the end of 2010. McCain would extend them for everyone. Obama would extend them only for households making less than $250,000 a year.
If you're among the richest Americans, the top one-tenth of 1 percent, the difference between McCain or Obama in the White House could be stark. Len Burman, director of the nonpartisan Tax Policy Center, says that under McCain, those rich taxpayers would, on average, get a $270,000 tax cut from McCain, but with Obama in the White House, they'd face a $700,000 increase in their tax bill. So if you're rich, you could see nearly a million-dollar swing in your tax bill, depending on who wins the election.
Burman says a big share of McCain's tax cuts for the wealthy come from his proposal to cut corporate income taxes, which would benefit people who own stocks. Speaking to a small-business association in Washington this week, McCain portrayed that corporate tax cut as a job creator. McCain said he would reduce the U.S. corporate tax rate "from the second-highest in the world to one on par with our trading partners." Doing so, he said, would keep "businesses and jobs in this country." McCain also proposed faster depreciation for business equipment and said he wants to increase the standard deduction for dependents by two-thirds.
Burman says McCain's tax cuts are clearly aimed at boosting the economy. He would lower marginal tax rates on personal income and cut corporate tax rates by a lot. "Normally, you would expect those would encourage more economic activity," he says.
But according to Burman, if those tax cuts produce larger federal deficits, the positive growth effects could disappear. McCain claims he will end the deficits by scrubbing the budget of earmarks and wasteful spending, but Burman says that realistically, the savings are not likely to come close to ending deficits.
While McCain's tax plan focuses on growth, Obama's tax plan places its priority on reducing income inequality. "The share of [U.S.] income going to the top 1 percent and top 0.1 percent of the population has grown to almost unprecedented levels in the past 20 years," Burman says. Meanwhile, the bottom 80 percent has had very modest income growth.
Throughout the campaign, Obama has made clear he wants to close that income gap. Obama has called for ending "the Bush tax cuts to the wealthy" and proposed "tax breaks [for] middle-class Americans and working Americans who need them."
Among Obama's proposals is a tax credit of up to $1,000 for two-earner couples and $500 for individuals to offset their Social Security and Medicare payroll taxes. Obama would also expand the earned income tax credit to aid low-income workers.
All households, except those in the top 5 percent of the income scale, would benefit from Obama's tax cuts. Households making under $20,000 a year would, on average, get a $570 break from Obama's plan. They'd get a $19 break under McCain's.
In the end, the Tax Policy Center's Burman says, both Obama's and McCain's plans would add to the national debt.
One important area left out of the center's analysis is health care. McCain's health care plan is based on big tax credits. Obama has not been clear about how his health care plan will be financed.