The First Black Woman To Run For President
The First Black Woman To Run For President
Fifth of a five-part series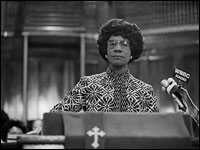 Hear A Speech
Shirley Chisholm's Announcement Speech
More In The Series
Shirley Chisholm, the first African-American woman elected to Congress, sought the Democratic nomination in 1972 as the first black woman to run for president.
When the congresswoman from New York launched her spirited campaign, she took on the political establishment. Chisholm said she ran for the office, despite the hopeless odds, to challenge the status quo.
In her announcement speech, Chisholm said: "I am not the candidate of black America, although I am black and proud. I am not the candidate of the women's movement of this country, although I am a woman and I am equally proud of that. I am the candidate of the people, and my presence before you now symbolizes a new era in American political history."
Chisholm lost the Democratic nomination to Sen. George McGovern of South Dakota.
Radio Diaries spoke with U.S. Rep. Barbara Lee (D-CA), who was a student on public assistance and a single mother when she first met Chisholm, and Robert Gottlieb, who worked on Chisholm's 1972 campaign.
Says Lee: "Chisholm told me, no matter what I do in life, use your power judiciously, use it with humility, but use it."
This story was produced by Joe Richman and Samara Freemark of Radio Diaries with help from Shola Lynch, who produced the PBS documentary Chisholm: Unbought and Unbossed.