West Virginia Voters Wrestle With Race, Rumors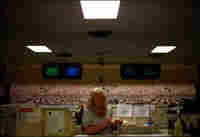 For nearly a century, no Democrat has won the White House without winning West Virginia.
President Bush carried the state twice. It was not expected to be in play for Democrat Barack Obama next month; Hillary Clinton easily defeated him in the state's primary. But recent polls suggest that he is running neck-and-neck in the state with Republican John McCain.
Back in May when Clinton landed in the coal town of Logan, people begged her not to give up her candidacy.
In Logan this week, there were no candidates. The sounds in the autumn-colored mountains were from bluegrass musicians gathering in a park. A marching band plays while ground is broken for a new state building downtown.
Resident Paul Hardesty calls Logan "small town America" in central Appalachia. The townspeople are still talking about the time John F. Kennedy visited in 1960.
"This is a very strong Democrat part of the state," Hardesty says. "Our ratio here is 10-to-1, Democrat to Republican, among registered voters. People were thrilled to see Hillary when she came."
Hardesty is a Democrat who has worked for two governors and was one of the residents who came out to see Clinton. He did vote for George Bush in 2000, he says, because he didn't think Al Gore liked the coal industry.
This year he is going to vote for Obama, he says, because the candidate talks about clean coal and has a strong economic message.
"People are going to vote their pocketbook. The economy is in the tank. People are hurting," he says.
Questions About Obama
Nearby, Judy Baisden works the register at Logan's Plaza Lanes Bowling Alley. She says she has watched as this mining community has lost jobs and people.
It is a proud place, she says. "But Logan needs help bad. We're going to be a ghost town before long. Whoever's going to help Logan, that's who I'm going to be for."
Baisden says that she has always been for Democrats.
"My grandfather raised us — 'You be a Democrat, and you never change.' So I don't know if he'd roll over in his grave if I changed to Republican or not," she says.
Baisden says much of her family is sticking with Obama, but that she is wavering, in part because of what she has heard from friends. Clearly, the rumors and chatter about Obama have not gone away.
"I've got one friend who sends me so many e-mails about him and you can click on it and it's proof," she says. "It's all this stuff — things he did when he was little, his church, the minister — that put a question in my mind."
She says it makes her wonder if Obama is really an American.
Ready For A Black President?
Across the street at Choppers Barbershop, Jack Baisden (no relation to Judy Baisden) is getting a $10 haircut. He owns a gardening center and restaurant in town. Though he's a Democrat, he cannot decide who to vote for.
"Neither of them just reaches out and grabs me," he says. "Obama seems like a Harvard lawyer speaking above my head, and McCain don't really tell you a whole lot of anything except round-and-round the Bush he goes."
Baisden says he does not believe the polls that show Obama is gaining ground in West Virginia. He says that while race is not a factor for him, it may be for older people.
"There are people out here," he says. "They'll say they're not racist, but they're not going to vote for a black person."
Around town, there are also residents like Tommy Lee, a 56-year-old Air force veteran who has voted Democratic all his life. Now he's backing McCain, and he says it was not a hard switch because Obama does not have any military experience.
Lee also says he wouldn't be ready for a black president.
"I don't think blacks have enough to run the country," he says.
Lee bluntly says that he is prejudiced. But, he says, if another black candidate had more experience than Obama, it might help him overcome that prejudice.
Then there's Steve Nagy, a retired miner. He says he is voting for Obama because the Democrat stands for poor people.
"I'm 84 years old," he says while eating Cheetos outside a gas station. "I had a lot of good colored people. They didn't bother me. I didn't bother me. They was good to me; I was good to them. That's all I can say."
And with that, Nagy is on his way to meet a friend outside the bowling alley.