McCain Hoping He Has Friends In Pennsylvania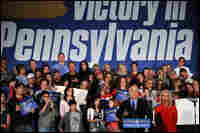 Robyn Beck/AFP/Getty Images
Republican John McCain spent Tuesday campaigning in Pennsylvania — his third visit there in eight days.
Republicans see Pennsylvania as their best chance to capture a blue state; Democrats have carried it in the last four presidential elections. Most public polls give Democrat Barack Obama a double-digit lead in the state. But McCain told supporters in suburban Bucks County on Tuesday morning that he is not down for the count.
"All those pundits who wrote off our campaign — they forgot to let you decide. We've got 'em just where we want 'em," he said.
There may be a bit of gamesmanship in that claim, but McCain is spending both time and money in Pennsylvania. Twice last week and again on Tuesday, he went hunting for votes in the suburbs of Philadelphia by saying that his campaign believes Pennsylvania is a state he can win.
Mike Duhaime, McCain's political director, echoed that sentiment.
"Certainly, it's a state that a Republican hasn't won in 20 years," Duhaime said. "But we think Sen. McCain is the right candidate, with an appeal to independent voters. And certainly, the ability to get some crossover Democrats is what you need."
Staking Their Hopes On Moderate Democrats
Registered Democrats outnumber Republicans in Pennsylvania by more than 1 million, and the gap is growing. But Duhaime argues that moderate Democrats will not vote for Obama, who was trounced in the primary here by New York Sen. Hillary Clinton.
"I think folks in Pennsylvania are not looking for a tax-and-spend Democrat like that," he said. "I think you look at somebody like Sen. McCain, who has been very fiscally conservative over the years. That's more in line with Pennsylvania voters."
McCain's promise of low taxes and limited government does resonate with a lot of older voters, like Grace Caldwell, who attended a rally in Chester County last week.
"I like his issues on the economy. I trust him. I'm sorry, but I don't trust Obama," said Caldwell, a retired schoolteacher who once taught home economics.
"When a candidate stands up there and says, 'I'm going to raise your taxes,' are we going to vote for him? I mean, come on," she said.
McCain Attacking Obama On Taxes And 'Bittergate'
Obama has promised not to raise taxes on those making less than $250,000. McCain hammered away at the tax message Tuesday as he traversed Pennsylvania.
"Sen. Obama wants to raise taxes and restrict trade. You know, my friends, the last time America did that in a bad economy, it led to the Great Depression," he said.
McCain's campaign is also reminding Pennsylvania voters of Obama's comment back in April about people in small towns who cling to their guns and religion.
Voter Vic Rosciolo says McCain has paid his dues and deserves to be president.
"I'm against socialism, and I think Obama is a socialist. So I'm strictly for John McCain. I think he'll do a good job if he gets in," he said.
Rosciolo says he is not too worried about the sluggish economy. He thinks it is mostly Wall Street fat cats who are hurting. His own business hasn't really been affected.
Most handicappers would call McCain a long shot in Pennsylvania, but he is hoping to close the gap as the contest enters the homestretch.