Cynthia McKinney Carries 2008 Green Party Flag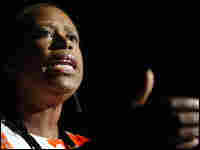 Cynthia McKinney, the first African-American woman to represent Georgia in the House of Representatives, is now the Green Party's candidate for the 2008 presidential election. She discusses the Green platform and her plans if elected.
McKinney was a Representative from Georgia's 11th Congressional District from 1993-2003 and Georgia's 4th District from 2005-2007.