Anatomy Of A Campaign Rally: Barack Obama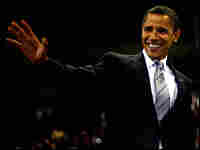 What's it like inside the large rallies Barack Obama and John McCain are holding? We hear sound bites from the events each day, but who waits in lines to get into these rallies — and what awaits them? NPR spent a weekend in North Carolina to find out.
At a weekend rally for Sen. Barack Obama in Fayetteville, one thing that stands out is all the young faces.
A group of students from East Carolina University are particularly visible in their purple ECU T-shirts. One of them, freshman Danielle Edmondson, says she's spent months volunteering for Obama and is here for some kind of thank-you.
"I better meet him today. I better get a hug. I better get something. Or him just being president — that would work, that would work for me," Edmondson says.
There's a long line and a long wait to get into the event, and people offer up different reasons for coming. Brenda McQuitty, who works at nearby Fort Bragg, says she's been thinking about marching with her mom, four decades ago, during the civil rights movement.
"I'm doing it for her, because my mother's passed," McQuitty says. "So I know that she would have loved to be here. So I knew that I had to get up so that I could be here, since she couldn't."
Then there's Charlie Ross, who works in the auto industry. He says he was a McCain guy, but got turned off by the Republican senator's ads.
"The negative ads were very bad. I'm just a strong believer you should never — even in my industry, you don't talk bad about one brand of car to make another, to make yours look good," Ross says.
The rally is being held inside the Crown Coliseum, which hosts everything from the county fair to an annual oyster roast. It's also home to the Fayetteville FireAntz, a pro hockey team. On this day, it's home to politics.
"There's excitement in the air, the hope, the love," says Deborah Blackmon, who is wearing a powder blue Obama hat and passing the time with everyone else, doing the wave.
Before Obama makes his appearance, other people come on stage to deliver the message that for all the hype and excitement, there's one important detail left:
"Because unless we vote, this doesn't matter. And this matters a whole lot," says state Senate Majority Leader Tony Rand.
Campaign organizer Kenisha Williams then pounds home the message by talking about the past eight years.
"I've learned that if you're going to be angry at the world, be angry with an objective," she says, noting that the polls in North Carolina are already open for early voting.
The crowd bursts into applause as Obama enters the arena and takes the stage.
Blackmon listens to the senator's every word. Later, she says she got what she came for:
"We're leaving here with new energy, to take back to the people who didn't come here."
These rallies have so much buildup, but when the stump speech is done, it's over. The candidate heads for his plane and only a few people, like Tremayne Smith, linger behind. Smith is part of the East Carolina University crew that's been working for Obama on campus.
"You know, registering voters can be tedious," he says. "You're in the hot sun, there's no cameras around, there's no music, it's just raw. And sometimes you need a boost of energy like this; and seeing Obama every time gives me, like, a jolt.
Smith hopes that jolt will keep his energy going another two weeks.