The Many Facets Of 'Changeling' Eastwood
The Many Facets Of 'Changeling' Eastwood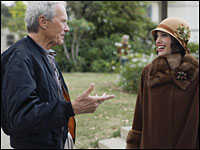 Once best known as a star of action and Western films, actor (and former mayor of Carmel, California) Clint Eastwood is also acclaimed for his work behind the camera. His latest directorial effort is Changeling, starring Angelina Jolie as a mother struggling to find her missing son and battling a corrupt Los Angeles police force.
Eastwood won the Academy Award for best director in 1993 for Unforgiven and again in 2005 for Million Dollar Baby. He was nominated for the Oscar for his direction of Mystic River and Letters from Iwo Jima.
'Changeling' Another Step In Eastwood's Evolution
Tony Rivetti Jr./Universal Studios
Changeling
Director: Clint eastwood
Genre: Crime drama
Running Time: 141 minutes
Rated R for threats to children and one graphically depicted death.
Watch Clips
'Why Aren't You Listening?'
Tony Rivetti Jr./Universal Studios
A stately telling of a lurid real-life story, Changeling begins with a steadfast mother's search for her missing child. But it soon becomes a kind of changeling itself, morphing into another of director Clint Eastwood's jabs at institutional inhumanity.
Angelina Jolie, Hollywood's favorite globe-trotting uber-mommy, plays single mother Christine Collins. It's 1928 Los Angeles, and Christine supports herself and 10-year-old Walter as a roller-skating troubleshooter at the phone company's main switchboard, dealing with angry customers and overloaded circuits.
One Saturday, Christine is summoned to work as an emergency fill-in. When she returns home, Walter is gone. The Los Angeles cops don't seem too concerned.
Months later, a boy in Illinois is identified as Walter. The scandal-lashed police department needs some good news, so it summons the press to watch Christine's reunion with her son at L.A.'s Union Terminal.
So Capt. J.J. Jones (Jeffrey Donovan) is not pleased when Christine says the kid is not hers. He insists that she's mistaken and presses her to take "Walter" home with her and get reacquainted. She does, but she doesn't change her mind. In fact, she finds physical evidence that the boy is not Walter.
To Jones, Christine's refusal to accept the replacement Walter is a problem — not for her or for the boy, but for the police department's image. He has Christine sent to a psychiatric ward, where she meets other women who've been committed simply because they annoyed a cop.
Like so many embattled single moms in Hollywood movies, Christine has no friends or family. But she draws the attention of a crusading radio preacher (John Malkovich), who condemns police corruption and demands Christine's release.
Then the distraught mother gets another, more horrifying form of support: A teenager (Eddie Alderson) tells the police he was forced to help pluck kids from L.A.'s streets and take them to a nearby farm to be murdered.
At this point, Changeling becomes a two-barreled courtroom drama, as Eastwood cuts between the trial of the alleged child killer (Jason Butler Harner) and a public hearing on LAPD malfeasance.
Based on police files, J. Michael Straczynski's script is too stuffed with incident to have much room for psychological nuance. The characters are either upright or malevolent, depending on whether they represent the average man or the decadent establishment. Even Malkovich, whose performances usually have a sly undertone, portrays a character with no apparent self-interest. Only Harner's accused murderer is intriguingly (and disturbingly) unpredictable.
Although originally set to be directed by Ron Howard, Changeling suits Eastwood well. The director provides his own low-key jazz score, and he meticulously evokes pre-freeway Los Angeles, a Midwestern-style city of bungalows and streetcars where color is only beginning to seep into cinematic images.
Because it centers on a missing child, Changeling recalls Eastwood's Mystic River — yet that movie, which explored the weaknesses of its central characters, is not typical of the director's recent work.
More characteristic are films in which a driven protagonist faces the rigid ideology of a major institution: the Catholic Church (Million Dollar Baby), the U.S. or the Japanese military (Flags of Our Fathers and Letters from Iwo Jima), and now the long-notorious LAPD.
And so the powerful but mostly one-dimensional Changeling, ultimately, isn't really a mother's story. Instead, it's another step in Cowboy Clint's evolution as a liberal-minded political filmmaker.
Related NPR Stories
Web Resources