Recordings Capture Writers' Voices Off The Page
Recordings Capture Writers' Voices Off The Page
Virginia Woolf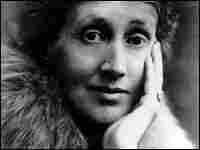 "Words, English words, are full of echoes, memories, associations, naturally. They've been out and about on people's lips — in the houses, in the streets, in the fields, for so many centuries. And that is one of the chief difficulties in writing them today. They're stored with other meanings, with other memories, and they have contracted so many famous marriages in the past."
—Virginia Woolf
John Steinbeck
Hulton Archive/Getty Images
"When I wrote The Grapes of Wrath, I was filled, naturally, with certain angers, and certain angers at people who were doing injustices to other people, or so I thought. I realize now that everyone was caught in the same trap."
—John Steinbeck
Vladimir Nabokov
"Pushkin, professional poet and Russian nobleman, he used to shock the beau monde by declaring that he wrote for his own pleasure but published for the sake of money. I do likewise, but have never shocked anybody — except, perhaps, a former publisher of mine who used to counter my indignant requests by saying that I'm much too good a writer to need extravagant advances."
—Vladimir Nabokov
Rare recordings of the voices of writers — both British and American — have just been released on two collections from the British Library.
The Spoken Word: British Writers begins with the only audio recording of Arthur Conan Doyle, the creator of Sherlock Holmes, and the American Writers collection includes the sound of F. Scott Fitzgerald reading from Othello. Most of these recordings come from the archives of BBC radio broadcasts.
Richard Fairman, who works in the sound archive of the British Library, produced the two collections, which offer the only surviving recording of British author Virginia Woolf.
"Virginia Woolf actually made three broadcasts for the BBC in the 1930s, but at that time, people simply didn't keep radio broadcasts. They went out on the air and that was it; they were lost forever," Fairman tells NPR's Melissa Block. "But a few enlightened souls at the BBC decided that something should be kept, so out of one of the broadcasts, they just kept eight minutes."
The recording of Woolf is nothing like the interviews common on the radio today.
"She sounds a bit stuffy," Fairman says. "That's a feature of the very earliest radio ... programs that survive. They tended to be prepared talks, and the person would sit down — and no doubt dressed up very smartly — in front of a microphone and they would read off the page. And once you go beyond the Second World War, that just disappears, and we go over to interviews. And suddenly all these writers from the slightly later period, they sound like human beings, like you and I."
The writers on the American collection range from Gertrude Stein to Toni Morrison. Fairman says he was struck by one difference between the British authors and those from the United States.
"When the British writers are asked, 'Why did you become a writer?' some of them say, 'Well, I tried being a lawyer and I wasn't very good' ... whereas the American writers know exactly why they became writers," Fairman says. "They wanted to put across how they saw society should be, or what their response to politics was. These are people who are seriously engaged and really have something they want to say."
Although dozens of authors' voices are preserved in the collections, there are still many others whose voices will never be heard again, even though recording technology existed in their lifetimes — including D.H. Lawrence and Edith Wharton.
"There is one whose voice by every admission should survive and that is George Orwell," Fairman says. "He actually worked at the BBC professionally. He made many, many broadcasts and yet not one of them survives. If anybody somewhere has a recording of George Orwell, please phone me up and tell me."