Can U.S. Go 'Green' Even When Oil Prices Drop?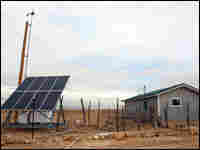 Lucas Ian Coshenet/The Daily Times/AP
Ethan Miller/Getty Images
Like clockwork, it seems like every time oil prices skyrocket in the United States, the country takes a step toward energy independence. Then the price of oil recedes and American energy consumers revert to their profligate ways.
It happened in 1973 when Middle East countries imposed an oil embargo. It happened in 1979 in the aftermath of the revolution in Iran. And it has happened again in the past few years as fuel prices spiked and a flush economy combined to propel the nation toward renewable energy, alternative fuels and the reduction of corporate America's carbon footprint.
Everybody jumped on the bandwagon. There has been an explosion of corporations "greenwashing" — paying lip service to environmentalism — their missions. Automobile manufacturers tout new, cleaner-greener technology. Grocery stores encourage reusable bags. Professional sports franchises instruct fans on how to recycle.
But recently, falling gas prices and a flailing economy have again put the brakes on many of the green initiatives — sincere and otherwise — of corporate America.
Absent a comprehensive national energy policy, what will it take to get corporations and consumers beyond this yo-yo effect and onto a permanent path toward renewable energy?
Sustaining Sustainability
Jeff Wacker, corporate futurist for Texas-based Electronic Data Systems (EDS), lectures all over the country about the evolution of American business. He sees the challenges to a green future. "It is a high concern," he says. "We have wasted good crises before. We get into a crisis, we have good intentions of gaining energy independence. Then the crisis passes and boom! We slide right back to where we started."
There are signs of backsliding today. In the slumping financial markets, shares in alternative energy firms have plunged precipitously. "Everyone is in shock about what the new world is going to be," V. John White, executive director of the Center for Energy Efficiency and Renewable Technology, told The New York Times. "Surely, renewable energy projects and new technologies are at risk because of their capital intensity."
A London research firm, New Energy Finance, reported in October that between the second and third quarters of 2008, investment in renewable energy companies and capacity fell 24 percent. "We expect project finance to be more difficult and expensive to find in the next few months," Michael Liebreich, the company's chief executive officer, said.
As Ronald Reagan might have said, there we go again. The ideal of sustainability, it turns out, is difficult to sustain.
But some proponents of renewable energy believe the time is right, regardless of the economy or the price of gas. And they believe that forces are in place — domestic and global pressures — that will lead at last to greater energy independence.
The environment plays second fiddle to the economy, says Wacker. "If the economy is broken and funds are tight, companies will not spend money on environmental improvements. If the economy is good with low energy prices, on the other hand, there is diminished demand for going green."
In other words, conditions have to be just right — like for life on Earth — in order for the U.S. to stick to a plan of sustainability. But Wacker and others point to several factors that might signal a significant sea change this time around.
The Competitive Edge
The wind, solar and geothermal industries "are growing by leaps and bounds" around the world, says Lester Brown of the Earth Policy Institute, a nonprofit Washington-based organization dedicated to a sustainable future.
These alternative energy companies, Brown says, are creating scads of new jobs in construction and manufacturing. The boom will require vast numbers of laborers, such as electricians, plumbers and roofers, and high-tech workers, such as meteorologists, geologists and solar engineers.
Interest is international. The Philippines, for instance, generates nearly one-fourth of its electricity from geothermal energy, according to the institute. By 2013, the country intends to increase its installed geothermal capacity by 60 percent. And China has already surpassed its recent 2010 goal for installed wind capacity.
"This transition we are seeing," Brown says, "is going to keep going. Sure, it will be slowed by economic situations, including the drop in oil prices. But when we get a new president, there will be a need for jobs. And this is where jobs are going to be — in alternative energy, everywhere from smart grids to wind farms."
Energy technology, he says, is labor intensive. "It's going to be what information technology was when it was booming." Brown believes that the U.S. will be able to export the goods and services created by the green boom.
He adds, "Whereas in the past, alternative energy was viewed as a temporary phenomenon, I don't think most people now see it as temporary."
Attaching A Price To Carbon Emissions
The objective of the alternative energy movement should be to make the cleanest alternative also the cheapest alternative, says Reid Detchon, executive director for energy and climate at the United Nations Foundation. "You do that two ways: You invest in the whole research and development chain through to commercialization to bring down costs for these new technologies. And you make the conventional technologies pay the cost of their environmental damage."
He says, "The right way to think about a price on carbon emissions is not to make life miserable for consumers or prevent them from using energy the way they want to. The right way is to send a signal to investors and technology developers that clean energy products will be favored in the market." For example, Detchon says, if electricity from coal becomes more expensive than electricity from solar panels, more people will buy solar panels.
"A carbon-constrained future is inescapable, unless we want to destroy the planet," says Detchon. "We must prepare the economy for it. We must create competitive advantage by creating innovative technologies that we know the rest of the world will need."
A Key Role For Government
Regulations will play a key role in the greening process. If the private sector knows that government backs alternative energy as a national priority — like it promotes home ownership — it will stay invested for the long term.
"Governments provide the rules within which markets operate," says Detchon. "And the energy market, more than most, is governed by rules — how much you can charge for a kilowatt hour of electricity, for example. So by getting the rules right, governments can encourage the adoption of clean-energy technology."
He points to a couple of examples: Germany gave a very generous subsidy to homeowners for wind and solar energy. Now the country has become one of the world's leading consumers and producers of solar energy, Reid says, even though it receives about as much sunlight as Anchorage, Alaska.
Brazil was responsible for creating a sugar cane-derived ethanol market that now dominates its fuel sector. "In part because of that," Detchon says, "Brazil is entirely energy independent."
Global Pressure
Because some countries, such as Australia and the United Kingdom, have put strict environmental laws into place, U.S. corporations are being forced to adhere to international restrictions in order to do business abroad or to get funding from foreign investors.
Recently, EDS — a $20 billion global technology services company owned by Hewlett-Packard — was approached by 16 institutional investors from all over the world. They told Wacker's company that it must disclose its carbon footprint; otherwise, investors said, there would be an "unquantified risk" that would be factored into the stock price, making the company less desirable in their eyes.
In May, EDS released its carbon footprint. Through its data centers, corporate travel and workers' commuting, the firm emits 830,000 tons of carbon a year. The company, Wacker says, also laid out its plan to reduce its carbon footprint. He says the reduction will come through renovations of existing data centers, building ultra-green new data centers and dramatically improving the efficiency of the company's computers and servers.
Major international oil companies are also shifting strategies, says Lester Brown. BP, formerly known as British Petroleum, is investing in solar and wind power, and Indonesia's state-owned oil company Pertamina is implementing large-scale geothermal energy production. And in the U.S., traditional oil magnates such as T. Boone Pickens and Philip Anschutz are pouring "large amounts of oil money into wind and geothermal energy," Brown says.
There are, he adds, no surer, purer signs of significant change.