Study: Vitamin E Doesn't Prevent Prostate Cancer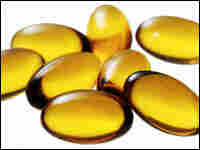 Thousands of men taking part in a study to see whether vitamin E or selenium can help prevent prostate cancer are now being advised by the National Cancer Institute to stop taking the supplements.
The researchers say they've stopped that part of the study because a preliminary analysis indicates the supplements don't help, and might even pose some risk.
Over the past several years, more than 35,000 men age 50 or older across the United States, Puerto Rico and Canada have been taking either the supplements or dummy pills as part of the federally funded Selenium and Vitamin E Cancer Prevention Trial, or SELECT. Earlier smaller studies had suggested the nutrients might prove beneficial in preventing prostate cancer.
In SELECT, participants were randomly assigned to take one of four sets of supplements or placebos. There are more than 8,000 men in each arm of the study. One group has been taking 200 micrograms of selenium and 400 ICU vitamin E; another gets the selenium and a vitamin E placebo. The third group has been getting the vitamin E and a selenium placebo; and the final group has been taking placebos of both supplements. To reduce bias in the study, none of the men knows whether he has been getting fake pills or the real thing.
The study was supposed to continue until all participants had taken the supplements for seven years. But an early review of the data has pointed to some worrisome trends: Men taking only vitamin E had a small increase in prostate cancer. And men taking only selenium had a small increase in diabetes.
The researchers caution that neither of those increases in risk were statistically significant. They may just be coincidental blips that won't hold up to further research.
Still, Dr. Eric Klein, a co-chairman of the study and a physician at the Cleveland Clinic, called the news about vitamin E and selenium "disappointing."
Klein also said he believes it "highly unlikely" that the supplements will ultimately prove to have harmful effects. The researchers plan to continue to track the men's health for three more years after they stop taking the supplements.
Prostate cancer is one of the leading causes of cancer deaths among men in the United States. This year, an estimated 28,660 men will die from prostate cancer, and more than 186,000 new cases will be diagnosed.