Jacob Zuma Weighs South Africa's Political Future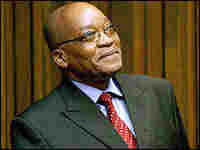 South African politics haven't been as volatile since the end of apartheid more than a decade ago.
Divisions within the country's ruling party — the African National Congress, or ANC — deepened last month when president Thabo Mbeki was ousted by party officials loyal to his rival, Jacob Zuma.
Several South African government leaders have resigned to show solidarity with Mbeki.
Zuma, in a conversation with NPR's Farai Chideya, described Mbeki as a "comrade and friend." He added, it's "important that we put the interests of the county first."
Zuma, who now leads the party, is expected to run for president. But he has been embroiled in a convoluted corruption trial.
In a wide-ranging interview, Zuma talks about where he sees the ANC and the country heading, and he responds to what he calls "media exaggeration" surrounding issues in his personal life.