Is 2008 The 'Year Of The Woman'?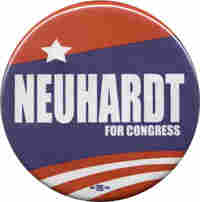 The election is approaching, and you know what that means: It's the Year of the Woman!
We seem to enjoy assigning titles to elections, and as you may remember, we had a great time with the Eisenhower recession of '58, the LBJ landslide of '64, the White Backlash of '66, the Newt Gingrich "Contract With America" revolution of '94, and so on. But "Year of the Woman" does have a special resonance. We first heard it in 1984, as Rep. Geraldine Ferraro (D-NY) was making history by becoming the first woman to run for vice president on a major-party ticket, and with a record 10 women (including incumbent Republican Nancy Kassebaum of Kansas) running for the Senate. But when all was said and done that year, the Mondale-Ferraro ticket got buried in 49 states, and every woman but Kassebaum lost her Senate bid, most by crushing margins.
Perhaps 1992 was a better example. Five women, all Democrats, were elected to the Senate that year, the most ever: Dianne Feinstein and Barbara Boxer of California, Carol Moseley Braun of Illinois and Patty Murray of Washington, along with incumbent Barbara Mikulski of Maryland. Another Democrat, Lynn Yeakel of Pennsylvania, came close. (Five others — four Dems and one GOPer — also ran in '92 but fared poorly.) So maybe 1992 was the real "Year of the Woman."
In theory, 2008 could have been in the running for that title as well. It is the closest a woman ever came to winning a major party's presidential nomination. And it is the closest a woman has ever come to becoming vice president; we'll see how far she gets in less than a week. Two completely different women, of different parties, different temperaments, different ideologies and different experiences, but both were in the same year. And Hillary Clinton and Sarah Palin are, yes indeedy, both women.
But if you look beyond Clinton's near miss in the primaries and Palin's underdog status in next Tuesday's election, you find a landscape that is at best mixed for female candidates: not so great for Senate and gubernatorial hopefuls; much better for women running for the House. Here, a week out, is a look at their prospects:
SENATE
Alabama — State Sen. Vivian Davis Figures (D) is given no chance against two-term Republican Jeff Sessions.
Delaware — State law allows Sen. Joseph Biden, the Democratic vice presidential nominee, to run for both posts. He is a shoo-in for a seventh term against the Republican nominee, consultant Christine O'Donnell.
Louisiana — Once thought to be in danger, Sen. Mary Landrieu (D) is now thought to be comfortably ahead in her race against state Treasurer John Kennedy (R), a former Democrat.
Maine — Ditto for Sen. Susan Collins, a moderate Republican who has stressed her independence from President Bush. She now leads Rep. Tom Allen (D) by a comfortable margin.
New Hampshire — One likely pickup for women in the Senate is here, as Jeanne Shaheen (D), the former governor, has been leading Sen. John Sununu (R) all year long. It's a rematch of their 2002 contest, which Sununu won by 4 points. But the political landscape has undergone a sea change in New Hampshire in the intervening six years.
North Carolina — This race could well result in an incumbent being defeated, but no matter what happens, it won't change the number of women in the Senate. Elizabeth Dole (R), seeking a second term, is in an unexpected battle with state Sen. Kay Hagan (D).
BOTTOM LINE: One additional woman in the Senate, at best.
---
HOUSE (races of potential change only)
Arizona 1st Congressional District — Two women are running to succeed Rep. Rick Renzi (R), who is under indictment. Former state Rep. Ann Kirkpatrick (D) is favored against Sydney Hay (R), the president of the Arizona Mining Association.
Arizona 8th CD — Yes, this is a Democratic year, but this is also Arizona, where John McCain may help down-ballot Republicans. One place to watch for McCain coattails might be here, where freshman Rep. Gabrielle Giffords (D) faces a much more mainstream Republican than she did two years ago when she won the seat against a strong anti-immigration candidate. The GOP candidate this time is Tim Bee, the president of the state Senate.
Colorado 4th CD — Rep. Marilyn Musgrave (R), a strong social conservative, barely won re-election two years ago in this GOP district. But if she loses this year, it will be to another woman: Betsy Markey (D), a former aide to Sen. Ken Salazar.
Florida 13th CD — Two years ago, in one of the most controversial and contested House races in the country, Republican Vern Buchanan defeated Democrat Christine Jennings by 369 votes for the seat vacated by GOP Senate candidate Katherine Harris. Jennings is back for a rematch, though polls indicate Buchanan is slightly ahead. Complicating Jennings' hopes is the independent candidacy of Jan Schneider, who had been the Democratic nominee against Harris in both 2002 and '04.
Florida 24th CD — Rep. Tom Feeney's (R) ethical woes and his association with convicted GOP lobbyist Jack Abramoff have given ex-state Rep. Suzanne Kosmas (D) an edge in this swing district.
Illinois 11th CD — Competing forces are at work in the fight to succeed retiring Republican Jerry Weller: Barack Obama's coattails (good for the Democrat, state Sen. Debbie Halvorson) and the unpopularity of Democratic Gov. Rod Blagojevich and his ties to Halvorson (good for the Republican, businessman Marty Ozinga).
Kansas 2nd CD — Freshman Rep. Nancy Boyda is one of the nation's most vulnerable Democratic incumbents, but her Republican opponent is also a woman: state Treasurer Lynn Jenkins.
Kentucky 3rd CD — Anne Northup, a Republican who lost her seat in an upset two years ago, is trailing in her rematch against freshman Democrat John Yarmuth.
Louisiana 2nd CD — Indicted Rep. William Jefferson, an African-American in an overwhelmingly black district, faces former TV broadcaster Helena Moreno, the only white who ran in the multicandidate October primary, in a Nov. 4 Democratic primary runoff. The winner of the runoff is all but assured of winning the Dec. 6 general election.
Maine 1st CD — Chellie Pingree, the former president of Common Cause and the Democratic nominee for the Senate in 2002, is favored to win the seat being vacated by Democratic Senate nominee Tom Allen. Pingree is running against Republican Charlie Summers, an Iraq war veteran.
Minnesota 6th CD — Rep. Michele Bachmann (R) was cruising to re-election until she made an ill-advised comment questioning the patriotism of Barack Obama and Democrats in Congress. This has resulted in an outpouring of financial support for her Democratic opponent, Elwyn Tinklenberg, and the race is suddenly too close to call.
Missouri 6th CD — Rep. Sam Graves (R) was easily re-elected two years ago, but he is facing a stiff challenge this time from Democrat Kay Barnes, the former mayor of Kansas City whom Graves has been attacking for having "San Francisco values." Barnes is well-funded but will have trouble in the district's huge swaths of culturally conservative rural areas.
Missouri 9th CD — This seat is being vacated by Rep. Kenny Hulshof, the Republican nominee for governor who has won re-election handily. But as Hulshof's gubernatorial candidacy seems to have weakened, there may be a lack of coattails for former state Rep. Blaine Luetkemeyer (R). Hoping to take advantage is Democratic state Rep. Judy Baker.
Nevada 2nd CD — This is a rematch between Rep. Dean Heller (R) and Jill Derby, the new chair of the state Democratic Party. Two years ago, Heller won by 5 percentage points; this year could be closer.
Nevada 3rd CD — An even better shot for women in the state is this district, where Dina Titus, the Democratic state Senate minority leader who ran for governor two years ago, is neck and neck with Rep. Jon Porter (R).
New Hampshire 1st CD — Freshman Rep. Carol Shea-Porter (D) faces the Republican she unseated two years ago, Jeb Bradley. The race is close, with Shea-Porter thought to be holding a slight lead.
New Jersey 7th CD — Democratic challenger Linda Stender held Rep. Mike Ferguson (R) to a near draw two years ago. Stender is back for more but Ferguson is not; he's retiring. The GOP nominee is state Sen. Leonard Lance.
New Mexico 1st CD — Rep. Heather Wilson gave up her seat to run for the Senate in the GOP primary. The two candidates hoping to succeed her are men.
New York 20th CD — Freshman Rep. Kirsten Gillibrand (D) is facing a multimillion-dollar challenge from (Mr.) Sandy Treadwell, the former Republican state chair.
New York 26th CD — Attorney Alice Kryzan (D) has a shot against businessman Chris Lee (R) for the seat being vacated by GOP Rep. Tom Reynolds.
North Carolina 5th CD — Democrats are suddenly talking up the prospects of Roy Carter, a teacher, in his long-shot bid against Rep. Virginia Foxx (R).
Ohio 2nd CD — The race here in 2006 was close, and this year could be close again, but it's between two women: Rep. Jean Schmidt (R) and Victoria Wulsin (D), a physician.
Ohio 7th CD — A Republican majority district has allowed David Hobson to win repeatedly over the years. He's retiring this year, giving the Democrats an unexpected, if unlikely, shot. Sharen Neuhardt, an attorney, is the Democratic nominee. She trails GOP state Sen. Steve Austria, but the race is closer than originally thought.
Ohio 11th CD — Marcia Fudge (D) will succeed the late Rep. Stephanie Tubbs Jones (D).
Ohio 15th CD — Rep. Deborah Pryce (R) survived a tough contest with Mary Jo Kilroy (D) two years ago by 1,062 votes. Pryce is retiring, but Kilroy has another battle this year, with GOP state Sen. Steve Stivers.
Oregon 5th CD — Two men are vying to replace Rep. Darlene Hooley (D), who is retiring.
Pennsylvania 3rd CD — The Democratic nominee to take on GOP Rep. Phil English is businesswoman Kathy Dahlkemper, who has won over voters in this socially conservative district with an anti-abortion stance.
Pennsylvania 4th CD — The chances don't look especially good for Melissa Hart (R) to win back the seat she lost two years ago to Democrat Jason Altmire.
Virginia 2nd CD — Rep. Thelma Drake (R) squeaked by in 2006, and she has her hands full again this year in her bid for a third term. Her Democratic opponent is Glenn Nye, a former State Department official and first-time candidate.
Washington 8th CD — This one officially ended two years ago with Dave Reichert (R) defeating Democrat Darcy Burner by 2 percentage points. But unofficially the race never ended and Burner is back for more, better funded with a more favorable political landscape.
West Virginia 2nd CD — The only evidence of a Republican presence in the state is Rep. Shelley Moore Capito, who keeps winning, albeit not overwhelmingly, despite what the Democrats throw at her. This year it's Anne Barth, a longtime aide to Sen. Robert Byrd.
Wyoming At-Large — Republicans were thought to be helped by the decision of Rep. Barbara Cubin (R) to retire. Cubin, never wildly popular in this overwhelmingly GOP state, defeated Gary Trauner (D) two years ago by just 1,012 votes. But the Republican replacement, former state Treasurer Cynthia Lummis, has not pulled away from Trauner, who is back for more. If Democrats are going to win here, then the total of GOP losses may be bigger than anyone imagined.
BOTTOM LINE: Five additional women in the House.
---
GOVERNOR
Delaware — Women lose a governorship here, as Democrat Ruth Ann Minner is term-limited, and two men are running to succeed her.
Indiana — Former U.S. Rep. Jill Long Thompson (D) is running a competitive race against incumbent Republican Mitch Daniels.
North Carolina — Lt. Gov. Bev Perdue is the Democratic nominee to succeed term-limited Gov. Mike Easley (D). Thought to be ahead all year, Perdue has suddenly found herself in a too-close-to-call contest with Charlotte Mayor Pat McCrory (R).
Vermont — All sides agree that, in this decidedly Democratic state, GOP Gov. Jim Douglas has a big lead. But the question is whether he can muster the 50 percent necessary to win, as required by state law. Douglas is being challenged by state House Speaker Gaye Symington, a Democratic woman, and independent Anthony Pollina. If no candidate gets a majority, then the election goes to the state Legislature — which is overwhelmingly Democratic.
Washington — When they ran against each other four years ago, Democrat Christine Gregoire defeated then-state Sen. Dino Rossi (R) in a disputed election by 133 votes. This year's rematch could be equally close.
BOTTOM LINE: One less woman with Minner leaving in Delaware. Make it two if Gregoire loses in Washington. But it's back to a net loss of one if Perdue wins in North Carolina.
---
MAPQUEST: One change in our presidential projections since last week's column: Virginia goes from Tossup to Obama. Our current tally: Obama 286 electoral votes, McCain 163, Tossup 89. Needed to win: 270.
Also, one change to report on the governor map: Washington goes from Democrat to Tossup.
Q: If Mark Begich defeats Sen. Ted Stevens in Alaska, would he be the first son of a congressman (the late Nick Begich) to win a Senate seat? -- Janice Lino, Anchorage, Alaska
A: First of all, there are two others running this year in the same situation. Rep. Tom Udall (D-NM), son of former Rep. Stewart Udall of Arizona, is favored to win the Senate seat being vacated by retiring Republican Pete Domenici. His cousin, Rep. Mark Udall (D-CO), son of the late Arizona congressman Mo Udall (Stewart's brother), is ahead in his bid for the Senate in Colorado.
But the answer is no. I can think of one son of a congressman who is currently in the Senate: Jon Kyl of Arizona, the son of the late Rep. John Kyl of Iowa.
Q: Does Ted Stevens have to resign immediately from the Senate now that he has been convicted? If he does, and Obama wins the presidency, will Gov. Sarah Palin appoint herself to the vacant Senate seat during the presidential transition? -- Ray Graves, Detroit
A: Despite calls for his resignation from John McCain and Sarah Palin, among others, Stevens insists he is not going anywhere and will continue his suddenly uphill bid for another term.
As for Palin making an appointment, interim or otherwise, Rebecca Smith of Juneau, Alaska, reminds us that Alaska voters passed a measure in 2004 taking the power of appointing a senator out of the hands of the governor, forcing instead a special election to occur between 60 and 90 days after a vacancy. The measure was passed in the wake of the unpopular move by Frank Murkowski, a GOP senator who was elected governor in 2002. Following his election, he appointed his daughter Lisa to succeed him in the Senate. (And has anyone else noticed how quiet Lisa Murkowski has been since Palin was named to the McCain ticket?)
Q: Does Cindy Sheehan, the anti-war activist who is running as an independent, have a shot against House Speaker Nancy Pelosi (D-CA)? -- Frances Chapman, Brooklyn, N.Y.
A: None whatsoever.
LAST CHANCE FOR THE NEWSEUM: Some sad news to report. This Wednesday's Junkie segment on NPR's Talk of the Nation is the last one that will be broadcast before a live audience at the Newseum in Washington, where we have been doing the segment since mid-April. We hope to find a new location where we can bring the program of somewhat interesting conversation, useless trivia questions and sparkling jokes to a live audience. Until then, we're back at Studio 3A at NPR HQ.
IT'S ALL POLITICS: The podcast continues, with our audience reported to be increasing to the high single digits. Last week's episode can be found here. New podcast every Thursday.
******* Don't Forget: If you are sending in a question to be used in this column, please don't forget to include your city and state. *********
This day in campaign history: With just one week to go until the election, Sen. Eugene McCarthy, defeated in his bid for the Democratic presidential nomination, endorsed his party's nominee, Vice President Hubert Humphrey. He also announced he would not seek re-election to the Senate in 1970 (Oct. 29, 1968).
COMING MONDAY: Our final pre-election column, with predictions in every state on presidential, Senate, House and gubernatorial races.
Got a question? Ask Ken Rudin: politicaljunkie@npr.org