Kids and Antidepressants: More Good Than Harm?
Kids and Antidepressants: More Good Than Harm?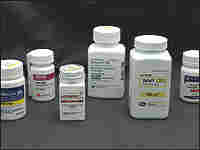 Timeline:
The FDA now asks manufacturers to add a warning to the labels of all antidepressants. The "black box" warnings claim the drugs may increase the risk of suicidal thoughts and behaviors among some young patients taking these drugs. Read About the FDA's Past Actions on Antidepressants.
In the past few years, there has been a furious debate over the safety of antidepressants in children and teens. Both proponents and opponents of the drugs have complained about the lack of research. Now a new study suggests that the drugs do more good than harm.
Several years ago, some parents blamed antidepressants for the suicides of their depressed children. Studies showed the drugs might promote suicidal thoughts, so the FDA sent out a warning to doctors. That started a series of hearings and headlines. In 2004, the FDA called for so-called "black box" warning labels on antidepressants.
While this was going on, teenager Michael Haas of Needham, Mass., was struggling. He wasn't eating or sleeping.
"I sort of cut myself off from my friends and activities I used to do," Haas says. "I more or less dropped out of school."
His pediatrician and then a psychopharmacologist suggested antidepressants. His mother, Ronnie Haas, went along. She tried not to pay attention to the headlines about suicides and suicidal thoughts in teenagers taking antidepressants.
"I was more nervous about not going along with it," she says. "For us, it just felt like a higher risk not to take action."
Child psychiatrist David Brent sees patients and runs government-funded tests on antidepressants at the University of Pittsburgh. He was getting questions from parents who wanted to know if antidepressants were going to make their children worse. Brent's university asked him to stop doing research.
"It forced us to think carefully about the risks and benefits of the medications and what ought to be communicated to families and clinicians," Brent says.
So Brent and several of his colleagues identified 27 studies of antidepressants in 5,000 younger people with depression, obsessive-compulsive disorder, or extreme anxiety. They report their findings in the current issue of The Journal of the American Medical Association.
"The medications are effective," Brent says. "They help many more people than are affected by this slightly increased risk [of] suicidal ideation and behavior."
The drugs were more effective in teenagers than in younger children. Even some critics of antidepressant use were impressed.
"I think it will increase the comfort level," says psychiatrist Lawrence Greenhill of Columbia University, "when [patients] turn to the possibility of taking an antidepressant, knowing that the risks are slightly smaller and the benefits are better defined."
But will the new study end the discussions? Probably not, says study author David Brent. The safety of antidepressants in children is an emotional issue.
"You're talking about people who lost their kids to suicide," Brent says.
Michael Haas is 18 now, and he has been on antidepressants for more than a year. He is back in school, but he says the depression is not in the past tense for him. Today, he is still in psychotherapy, and he is still taking medication.
A History of FDA Action on Antidepressants
In 2004, the suicide rate among U.S. teens increased for the first time in a decade, according to a recent CDC report. That year also saw a noted decline in the use of antidepressants among children and teenagers, likely due to a new Food and Drug Administration warning placed prominently on drug packaging. Called a "black box" label, it warns that the medications could increase the risk of suicidal thoughts and behavior in young patients. Now, some mental health experts are questioning whether the labels are doing more harm than good. Here's a look at the FDA's recent actions on treating depression in children and teens:
Oct, 2003: The FDA issues a public health advisory to doctors about the use of medications to treat depressed children and adolescents. The action comes on the heels of several reports of children and teenagers taking antidepressants who then attempted or committed suicide. The antidepressants in question are SSRIs — selective serotonin reuptake inhibitors — which include drugs such as Prozac, Paxil, Zoloft and Celexa. The FDA asks a panel of experts to reanalyze these cases and to discuss the results of the analysis at a meeting planned for February 2004.
Dec. 10, 2003: British drug regulators send a letter to doctors and health professionals advising against the use of almost all antidepressants in anyone under 18. The letter warns that new data reveal that the potential risks of the medications do not outweigh the possible benefits.
Feb. 2, 2004: Two FDA committees meet to discuss the use of antidepressants by children and teenagers. The committees hear emotional testimony from parents and teenagers about their struggles with depression and antidepressants.
March 22, 2004: The FDA issues a public health advisory that provides further cautions to physicians, patients and families about the need to closely monitor children with depression, especially at the beginning of treatment, or when medication doses are changed. The agency says it has reviewed data suggesting an increase in suicidal thoughts and behavior in children and teenagers given antidepressants, but the agency says it is still unclear whether the drugs contribute to the emergence of suicidal thinking and behavior.
Aug. 20, 2004: The FDA releases a long-awaited analysis of the possible risks posed by antidepressants to children and teens. The study comes just days after a report was published in The Journal of the American Medical Association showing Prozac can help alleviate depression in adolescents, but also raises the risk of suicidal behaviors. The new FDA analysis similarly concludes that young patients taking antidepressants could be at increased risk for self-harm.
Sept. 14, 2004: An FDA advisory panel recommends strong warning labels on antidepressant medications prescribed for children and teenagers. FDA officials tell the advisory panel that the drug-label warnings added the previous year had little impact on the number of prescriptions written for children; they report that children still account for 7 percent of antidepressants prescribed.
Oct. 15, 2004: The FDA directs manufacturers to add a "black box" warning to the labeling of all antidepressant medications. The warning must describe the increased risk of suicidal thoughts and behavior in children and adolescents taking these medications, and emphasize the need for close monitoring of patients started on these medications. A "black box" warning is the most serious warning that can be placed on the label of a prescription drug.
Adapted From: The U.S. Food and Drug Administration: Antidepressant Use in Children, Adolescents, and Adults.