Corey Dargel: 13 Love Songs For 13 Couples
Corey Dargel: 13 Love Songs For 13 Couples
Just The Music
'My Voice Is In Your Head (For Katie From Teresa)'
'Seagulls (For CJ From Karen)'
'Five of a Kind (For Carl From Kristin)'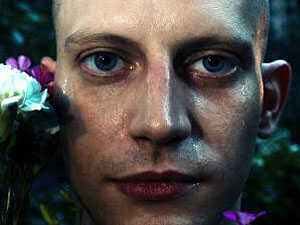 For his new album, Other People's Love Songs, Corey Dargel wrote 13 personalized songs on commission for couples of all configurations: Husbands and wives, siblings, and friends.
When crafting the songs, Dargel says, "I tried to find the things about love that are a little bit quirky. I didn't want to treat love and intimacy as profound and paralyzing emotions, so I looked for ordinary things that make us fall in love with each other."
To find couples to write about, Dargel advertised the project on his Web site. "That's all I did," he says.
Dargel sat down and interviewed each couple before writing their specific song.
"I have boilerplate questions for each couple," he says, "which are things like, 'How did you meet?' and 'What's the most exciting thing you've done together?' And those questions then opened up the door for the subjects to lead me in whatever direction they wanted to go."
For the song "Seagulls (For CJ from Karen)," Karen contacted Dargel directly. Instead of answering a lot of his standard questions, she told him a few stories, one of which was about a road trip the two of them took after they first met.
"We got to this place called Hallsands," she says. "And it wasn't until the morning that we discovered that Hallsands was a village that had fallen into the sea in 1917 — and this was all that was left of it."
In the song, Dargel sings, "It's a mystery to me / how those Hallsands seagulls keep surviving / A whole village falls into the sea / and those birds keep thriving / Diving right into the undertow / Constantly struggling / No matter how hard the wind blows."
Dargel says he based the song on that story in particular because of what it said about CJ and Karen.
"I found, in that story, something about their relationship," he says. "I saw Karen as the sea gull. No matter how hard the wind was blowing, she kept flying, she kept struggling to fly, and it was Karen who was the force forward. But she couldn't get anywhere without the help of a navigator."
"I think Corey nailed it, beautifully," CJ says. "It really rings loud and clear and true to me."
For her part, Karen says she's excited, not nervous, for a wide audience to discover a part of her personal life.
"I think it's fantastic if other people hear it," she says, "and I actually don't feel that it's so intimate that it can't be about anyone."
Not all of the songs on Other People's Love Songs are about romantic love. One is a love song between sisters, and another between a father and a daughter. Dargel says he thinks it only made the project more interesting.
"I actively sought, in these commissions that I took, different definitions of what love is," he says.
Dargel says that, while he's a romantic at heart, he's also partly ashamed of it.
"There's something about it that feels a little too easy; it's like the flip side of being a cynic," he says. "Everything is sweet and precious, and I think sometimes the things that are most beautiful to me are the things that we know are going to pass away — the things that we know aren't going to last. And so, enjoying those things, and really investing in enjoying them while we can, is something that I enjoy. And sentimentality sometimes, to me, feels too quick and easy."
Related NPR Stories