Nightmare Before Closing: A Housing Horror Tale
Courtesy Walker-Rosato Family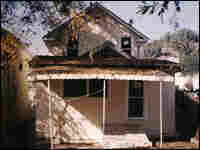 When one is in love, it's easy to explain away the bad omens. Like a black widow in the bathtub. Or weirder yet — a toilet in the sunroom.
"From that toilet, you had a really good view down the street and of the skyline downtown," recalls artist Gregory Walker, referring to his unusual discovery in the house he was about to buy. "A crapper in the sunroom — such a funny thing. You would not want to sit in this toilet, with all these windows," adds his wife, actress-director Mary Lou Rosato.
It was a hint of the nightmare to come, but they chose to ignore it. Who could blame them? Rosato and Walker were head-over-heels for a 100-year-old Victorian. Finally, at ages 40- and 50-something, the longtime Los Angeles residents were ready to tie the knot with the bank and become proud homeowners.
"We had no built-up capital, or anything like that. We had no experience. But everyone told us, 'Go on, buy the house. It's fine. It's time.' "
This was back in 2003, as the housing bubble was starting to soar. Prices were blood-hot, and buyers were acting like zombies, hungry for the next bargain kill.
"It felt like it was the height of the insanity, but it was only the fifth rung of the insanity of the housing market," Rosato recalls. "Who knew it was going to exponentially explode?"
For decades, the couple had been saving. But in L.A. — one of the priciest markets in the country — they could never afford much more than a chicken coop. And then in Lincoln Heights, a supposedly up-and-coming neighborhood close to downtown — they found it: a three bedroom charmer for just $240,000 — more than $100,000 less than similar houses nearby. They knew very little about the property, except that it was bank-owned, the front window was gone and the previous owner had installed certain features in unusual places.
But that price — how could they resist? They pounced quickly, narrowly beating out another bidder.
The Dream Explodes
The couple spent many days over the coming weeks at the house, raking leaves and imagining how they would decorate. On one of these visits, while chatting with their sweet elderly neighbors, a man appeared seemingly from nowhere.
"Do you know what kind of neighborhood this is?" Rosato recalls the man asking. "Well, yes, but this kind of question was a smash in my face."
Their dream home had been the scene of a gruesome crime, the man — their neighbors' son — told them. The previous residents were gangbangers who kept watch from the sunroom, ready to flush crack rocks down the toilet if police showed up. Some rival gang members were in jail, he said. But they were about to be released — and when they saw the house was occupied, they'd shoot out that front window yet again.
"This whole story — he presented it as 'Merry Christmas, here's the story of the house you're about to buy,' " Rosato says, her posture growing stiff. "Even now, it makes my stomach turn just to think about it."
Neither she nor Walker were ready to give up their dream so easily.
"A neighborhood watch?" she recalls suggesting. But these people, who'd lived in the neighborhood all their life, apparently knew better. "They looked at us like — 'you are kooky people. What do you think this is — some peace train? You gotta get out of here.' "
And that they did. They verified the facts with the police (all true) and wrote a threatening letter to the bank, accusing them of putting them in danger. Without a fight, the deal was over. And after that, they never returned to the house again.
The Problem With Bank-Owned Properties
Why hadn't anyone told them their house was haunted by violence? Because in California and many other states, when one buys a property from the bank, the bank is not required to submit a disclosure form. Drive-bys, a rabid bat colony — an individual seller would have to fess up about such inconveniences. But in California, representatives from the bank aren't legally expected to know — or tell.
Five years later, the artsy couple is still renting the same apartment in east Hollywood. Spooked, they've never tried to buy again. But they can't help wondering — what if? Wouldn't it be nice in these moments if we could borrow the abilities from the characters on the TV show Heroes and make them paint a picture of our other future — and then decide which one to pick?
Digging through police records reveals that in the years that followed, at least 20 shots were fired on that very block. In what would have been their honeymoon year, there was a homicide, in addition to aggravated assaults.
The couple cringes at the figures. Reacting to her parents' loud "oh my Gods" — even their little Ewok-like-Pekingese pup grows alarmed, offering a sequence of distressed snorts.
"We would have needed flak jackets to leave our home," says Rosato. "Who do you think lives there now? Poor people," she sighs and makes the sound of a doorbell. "Ding dong. Boom!"
Who Lives There Now?
As I arrive at the house where Rosato and Walker nearly lived, a Great Dane the size of a cow is taking a leash-free stroll. The bushes around the house next door are covered in a thick layer of cobwebs. A spider hangs off a for-sale sign. I think it's a joke — there are other Halloween decorations sprinkled throughout the neighborhood — but then it moves.
A teen buying ice cream explains that a house across the street has seen four renters in the past year. Financial demons or gangbanging ghosts — he can't say. But something's not right.
A car pulls up in front of the Victorian nightmare-home. These risk-taking gamblers who dared defy the odds. Why do they look so happy? Don't they have any problems with the house or neighborhood?
Josefina Guzman, who lives there with her husband, kids and brother-in-law, nods.
"That ice cream truck — so annoying," she says sternly, before breaking into laughter as the white truck makes yet another round. How much ice cream can a person eat?
Indeed, it wouldn't hurt if the windows were thicker, her brother-in-law Jose Guzman says.
But isn't there something else? I tell them about the violent ghosts of their home's past. A description of the crack-addicted toilet elicits loud laughter.
"No, no, no," Senor Guzman says, "these are things of the past."
"It's a dream, with housing being so expensive," adds his brother.
The Dream Deconstructed
I take this "dream" back to Rosato and Walker, adding the information that if the house next door is any indication, their property value would have been way up. Despite the economic chaos and violence, it's selling for $390,00 — that's $150,00 more than the house they almost bought. And it's only half the size.
"That's like saying that lotto ticket that guy in front of you bought won, and you could have bought that ticket. If it was a gamble like that, that's really not what we were looking for anyway," Rosato says.
Plus, even if they had managed to tame the violent ghosts in the Victorian, they are sure their two darling Pekingese wouldn't have survived.
"They probably would have been stolen or hurt," says Walker. "Or eaten," adds Rosato.
Or worse yet — crushed under the slow-moving wheels of an ice cream truck.