'Chasing Light': Music Made For 50 States
Hear the Music
The Reno Chamber Orchestra, with conductor Theodore Kuchar, performs the opening movement of Joseph Schwantner's new work.
Schwantner: Chasing Light (1st mvt.)
A Composer's inspiration
Joseph Schwantner explains his motivations as a composer and reads an excerpt of the poem that inspired "Chasing Light…".
'Chasing Light': Music Made For 50 States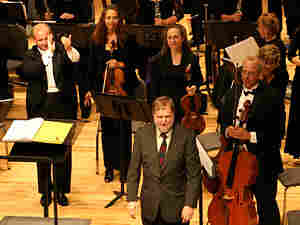 It isn't every day that a small community orchestra gets to play a new work by a Pulitzer Prize-winning composer. But that's what's happening now — and over the course of the next year and a half — in all 50 states. First up was the Reno Chamber Orchestra.
The audience after the concert was buzzing in the lobby of the Nightingale Theater on the campus of the University of Nevada in Reno. Sure, audience members had heard their local orchestra play the always-stirring Fifth Symphony by Beethoven, but what really excited them was hearing the first performance — ever — of Joseph Schwantner's Chasing Light..., with the composer in attendance. Ashley Stein was excited to be at a world premiere; the 17-year-old is a drum major at her high school and plays piano, flute and oboe.
"I thought it was seriously amazing," she says. "Like, I've never been to one before, and it really means something to be one of the first people to ever hear it. And it was the most beautiful thing I've ever heard, and I'll never forget it."
Made In America
Chasing Light... is the product of a program called Ford Made in America. It's helping to bring new music to orchestras that normally couldn't afford to commission a piece by an internationally recognized composer like Schwantner. But, by banding together, 58 of them, ranging from small professional ensembles to college and youth orchestras, now have the opportunity to play something written just for them. One of the project's sponsors is the League of American Orchestras. Jesse Rosen, president of the group, says that commissioning and premiering new work is a common experience for major symphony orchestras, but a rarity for many others.
"The smaller orchestras have a kind of connection to their communities that's very close and very palpable and real," Rosen says. "And when a composer goes into those communities, when an orchestra plays in those communities, it's special. It's an event."
The Reno Chamber Orchestra is fairly typical of the groups that commissioned Chasing Light... It has an annual budget of $600,000 and plays only 10 concerts a year. Most of the orchestra's musicians have other jobs: Some teach at the university, give private lessons or perform in the city's casinos. Some do all three.
Learning From A Living Composer
Principal bassoonist Christin Schillinger teaches music theory at the university. She says that preparing a new piece — and working on it with the composer — is very different from the way she normally works.
"To play our parts and have the actual composer step up and say, 'You know, I envisioned this line as a flower growing and blooming, and could you play it that way?' And to hear him think of it that way, instead of just our ideas, is refreshing and it's exciting," Schillinger says.
It took Schwantner eight months to compose Chasing Light... He says he was conscious, as he was writing the piece, that it would have to be played by orchestras of varying skill levels.
"It's a challenging piece; there's no question about it," he says. "And one of the issues that probably is most demanding is the rhythmical aspect of my music in general. And what that means is that, for the less experienced ensembles, they're simply going to have to take more time to prepare the work. It doesn't mean that it's unplayable; hardly that at all."
Over the years, Schwantner has been commissioned by many orchestras, including the New York Philharmonic and Washington's National Symphony. He says that, after getting world premieres, it's sometimes difficult getting second performances. But this time, he's getting close to a hundred of them. While Schwantner won't be going to all the places where his piece is being played, he'll hold residencies in several communities. Scott Faulkner, of the Reno Chamber Orchestra, says that his group kept the composer busy, and not just at rehearsal.
"Well, Joe has been working like a dog since he's been here this week," Faulkner says. "A number of the things he's done have been here on the university campus. He gave a composition master class to the students, and a couple of them came to our rehearsal last night and sat in the back, studying the score with him. And they sat talking until we had to kick him out of the building last night. He also met with teachers from the Washoe County School District. He'll also be participating in a pre-concert interview, before each of the concerts."
If engaging and pleasing the audience with a new work was the goal of this project, they hit the bull's-eye in Reno, at least according to Doris Webber, who attended the concert.
"The new music — that's exciting, to be a part of it. A real, live composer for a change," she says. "That's the beauty."