In Tricky Economy, Halloween A Treat For Retailers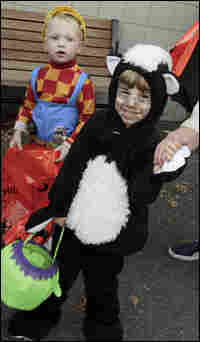 Jessie Cohen/Smithsonian's National Zoo
Chip Somodevilla/Getty Images
The economy may be the scariest thing out there, but that isn't stopping Americans from embracing the ghoulish delights of Halloween.
This year, U.S. adults will spend an estimated $5.77 billion to celebrate the holiday, according to the National Retail Federation, up from $5.07 billion in 2007. Who says cobwebs can't stimulate the economy?
That's good news in an otherwise grim economic outlook. The Commerce Department said Thursday that Gross Domestic Product, or GDP, shrank by 0.3 percent in the third quarter, largely due to sharp declines in consumer spending. This leaves little doubt with economists that we're in a recession that may be long and deep.
If only the 5.9 million adults who plan to dress up as witches — the most popular costume for grownups, according to the retail federation – could sweep away the financial horror show with their brooms.
Speaking of costumes, with the election around the corner, expect to see a fair share of Barack Obamas, John McCains, Joe Bidens and especially Sarah Palins tricking and treating.
"Sarah Palin is probably going to be the most popular political Halloween figure," says Ellen Davis, the federation's vice president.
She says would-be governors of Alaska will have to be "more creative" with that costume. Retailers were not able to prepare far in advance, because the vice presidential candidates weren't announced until late August. Some men have already taken a shot, dressing up as Palin hockey moms complete with a Palin jersey, roller blades and a wig.
Cats, fairies and nurses still trump politicians in costume popularity. Politicos remain tied in sixth place — with Batman.
A Sweet Escape
The retail federation says that more consumers – 64.5 percent — plan to celebrate the holiday this year, up from 58.7 percent in 2007. Davis attributes the uptick to the economy. "This year, more than the past several years, consumers are looking at Halloween as a way to escape," she says. "There's been so much bad news that Americans like the idea of celebrating Halloween, because it is about having a good time and taking a break from reality and pretending to be someone you're not."
Enthusiasm may also have increased with adults because the holiday falls on a Friday this year.
And then there is the candy factor: Ninety percent of parents say they sneak a taste of goodies from their children's Halloween bags, according to the National Confectioners Association.
Historically, Halloween has been the holiday with the largest overall candy sales, according to the association. (Take that, Easter, Christmas and Valentine's Day.) The association projects $2.3 billion in Halloween candy sales for 2008, up from $2.2 billion in 2007.
Sales of candy typically peak during the last two weeks before Halloween, says Susan Fussell, a spokeswoman for the association. That's driven, in part, by repeat buyers: Families often snack on candy they've already purchased, so they need to replenish the supply for the trick-or-treaters. (The most popular candies are bite-sized chocolate ones.)
The retail federation says the average consumer will spend $24.17 on costumes, $20.39 on candy, $18.25 on decorations and $3.73 on greeting cards.
Stretching The Holiday
And there's more cause for retailers to rejoice: Revelers tend to celebrate Halloween across many days now.
The holiday is "really stretching past more than one day," says Davis. People may head to a pumpkin patch or haunted house one weekend, then trick-or-treat the next. "Halloween has really become more of a seasonal celebration."
In Washington, D.C., close to 20,000 costumed children and adults attended "Boo at the Zoo," a fundraiser held by the Smithsonian's National Zoo Oct. 23-26. This year, trick-or-treaters visited up to 40 stations where 700,000 treats – such as candy, fruit and granola bars – were handed out, says Matt Olear, a zoo spokesman.
Among the highlights: Seeing animals such as spiders and scorpions up close. But it's the Asian elephants that really get into the spirit: They smash pumpkins and then eat the meat. Take that, recession.