Voters To Face Vast Array Of State Ballot Initiatives
The hot-button social issues that dominated much of the 2004 presidential campaign have been pushed off the national stage by the plummeting U.S. economy. But those issues — especially gay marriage and abortion — have not gone away, they've just moved over to hotly contested ballot initiatives in several states.
Same-Sex Marriage
Opponents of same-sex marriage are trying to slam the door on it in three states: Florida, Arizona and California. The fiercest, most expensive battle is in California, where Proposition 8 would amend the state's constitution to restrict marriage to a man and a woman. Although same-sex marriage was banned by a ballot measure that passed overwhelmingly in 2000, the California Supreme Court overturned the measure in May, leading to a wave of highly publicized gay marriages.
About $73 million has been spent by backers and opponents of Proposition 8 — making it the most expensive social-issue election in U.S. history. Much of the money for both sides has come from outside the state: 19 percent for supporters and 34 percent for opponents. According to a Web site that tracks contributions, the Mormon Church accounts for nearly half the money contributed to support the measure. The latest Field Poll shows that the initiative is trailing among voters, but the struggle has tightened, with 49 percent opposed and 44 percent in favor. As the gap has closed, celebrity opponents such as Ellen DeGeneres, George Lucas and Brad Pitt have forked over $100,000. And even companies like Apple and Google have each given $100,000 apiece to help defeat Proposition 8.
Arizona also has a constitutional amendment measure on the ballot that would limit marriage to a man and a woman. The state already has a law banning same-sex marriage, but the measure's supporters say they are taking out an insurance policy against politicians and judges who might try to overturn the law. A similar attempt to amend Arizona's constitution was voted down in 2006. The state Legislature put the new measure on the ballot shortly after the California Supreme Court legalized same-sex marriage in that state. A recent poll suggests most voters favor the initiative, which also has the support of Arizona Sen. John McCain.
The situation in Florida is similar to Arizona. Florida also has a law banning gay marriage, but a measure on the ballot would put a ban in the state constitution. It takes a 60 percent vote in Florida to amend the constitution.
In Arkansas, a ballot initiative would prohibit unmarried people from adopting or becoming foster parents. Conservative proponents say the measure is aimed at gay couples.
Abortion
South Dakota has a measure on the ballot that would ban the procedure except in cases of rape, incest and serious health threats to the pregnant woman. Legislation that did not include the rape and incest provisions was defeated in 2006. But there are complicated qualifications to all of the exceptions in the current initiative, and the South Dakota State Medical Association's Council of Physicians opposes the measure. A recent poll shows the measure a toss-up.
In California, a ballot measure would amend the state constitution to require notification of a parent or guardian, and a 48-hour waiting period before a minor can receive an abortion. Colorado has a constitutional amendment measure that defines a person as a human being at the moment of fertilization, and so presumably would ban abortion.
Affirmative Action
Voters in Colorado and Nebraska will decide on initiatives dealing with affirmative action. The measures simply read: "The state shall not discriminate against or grant preferential treatment to any group or individual on the basis of race, sex, color, ethnicity, or national origin in the operation of public employment, public contracting, or public education." Similar measures were passed in California, Washington and Michigan, despite opposition by leaders of both parties. The Colorado and Nebraska initiatives are given good chances of winning.
Physician-Assisted Suicide
Washington state has a measure on the ballot that would legalize physician-assisted suicide, something voters rejected in 1991. Oregon passed a similar law 11 years ago that was upheld by the U.S. Supreme Court in 2006. Through the end of last year, 341 people had taken advantage of that law. Under the current measure in Washington, two doctors must make independent assessments that a patient would have less than six months to live before that person could receive a lethal prescription. Polls indicate the measure has more supporters than opponents, but it is hotly contested.
Animal Rights
A measure on the ballot in California would require minimum living space for farm animals, including calves, chickens and pregnant pigs. Voters in Florida and Arizona recently approved similar legislation. But chicken farmers say including egg-laying chickens in the California measure would increase imports from Mexico, leading to more salmonella outbreaks and higher egg prices. Supporters are running TV commercials showing pictures of downed cows and small, fly-infested chicken cages.
Alaska voters will choose whether to ban aerial hunting of bears and wolves, while Massachusetts voters will be asked to decide whether to ban commercial dog racing. An Oklahoma ballot measure would make hunting and fishing a state constitutional right.
Taxes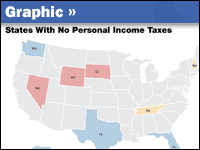 In Massachusetts, a closely watched initiative would abolish the state income tax over two years. A similar measure almost passed in 2002, taking opponents by surprise. So this year, they have raised $4.5 million and far outspent the measure's sponsors. If the measure passes, Massachusetts would lose $12 billion in funding, or about 40 percent of its current budget. A recent poll showed the measure trailing badly, 59 percent to 26 percent, but proponents say polls said the same thing in 2002.
Related NPR Stories