Democrats Poised For Landslide Wins In House
Paul J. Richards/Getty Images
Election Map: See The Tally
Get the latest, minute by minute NPR calls on each race.
Nancy Ostertag/Getty Images
Robyn Beck/AFP/Getty Images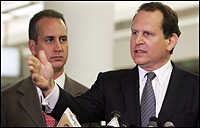 Roberto Schmidt/Getty Images
Democrats held out hope Tuesday that the massive turnout for the presidential election would help boost the party's majority in the U.S. House of Representatives.
Democrats hold a convincing lead, and they're looking to expand it.
Rep. Chris Van Hollen (D-MD) predicted a high turnout for Barack Obama would help Democrats down the ballot, but said anything can happen.
"That is why I've been careful ... about these huge numbers people are talking about," Van Hollen said.
Republicans are heading into the election with distinct disadvantages. The other party is ahead 236 seats to 199; Democrats have more money and more ads; and the GOP has more retirements and open seats to defend. After losing 30 seats in 2006, they're probably in for another double-digit setback.
"It's perfectly normal for a party to suffer a train wreck from time to time," writes political analyst Charlie Cook, "but it's really rare to have them in back-to-back elections."
But that's what many analysts expect, barring some life-saving GOP maneuver. Democrats are likely to gain anywhere from 17 to 40 seats. Republicans have not sustained consecutive double-digit losses since 1930 and 1932. (For Democrats, it was 1950 and 1952.)
In 2006, voters were angry about the Iraq war, a sluggish economy and the White House's inept handling of Hurricane Katrina.
This year, the financial crisis and President Bush's unpopularity mean that the Democratic Party could again see a double-digit victory in the House.
GOP lawmakers at risk include Alaska's Rep. Don Young, Rep. Marilyn Musgrave of Colorado, Rep. Tom Feeney of Florida, and Michigan Reps. Tim Walberg and Joe Knollenberg. Republican Rep. Lee Terry of Nebraska is also in major trouble in a state Obama is actively contesting.
"They won't be satisfied until they've completely swept house," says Isaac Wood, House race editor at the University of Virginia's Crystal Ball program. "All voters are very worried about the economy. They're pining for the Clinton years."
If Democrats gain 20 seats, they will set the clock back to 1994, when Republican Newt Gingrich wrote his "Contract with America" and rode a Republican tsunami into the House. That landslide left the Democrats in the minority for a dozen years.
The story of 2008 is about Democrats regaining what they lost, and then trying to push deep into Republican territory. Here are some of the dynamics playing out in the House races and what to watch for as the tallies roll in.
Riding Obama's Coattails
One unknown that could tip the balance in several races is the black turnout. Black turnout historically has been somewhat lower than their share of the population. In 2004, for example, 64 percent of voting age citizens went to the polls; 60 percent of blacks voted. But the prospect of the first black president has mobilized many new black voters — both those registering for the first time, and others now motivated to show up at the polls.
Analysts are also watching Obama's coattails, particularly in or near the senator's home state of Illinois. For example, Republican Mark Kirk is seeking his fifth term in the solidly Republican area north of Chicago. But this area has tilted Democratic in recent years, and two years ago, first-time Democratic challenger Dan Seals lost to Kirk in a relatively close match. Seals, who is black, could be a beneficiary if Obama inspires a large black turnout.
Democrats hope Obama will help white candidates as well. They've targeted Republican incumbent Steve Chabot, who has represented his Cincinnati district since 1994. He's in a tossup race with state Rep. Steve Driehaus, an anti-abortion, moderate Democrat. Driehaus is counting on Obama's candidacy to energize black voters, who make up just under a third of the population.
To see how far south Obama's coattails could extend, keep an eye on incumbent Republican Henry Brown of South Carolina. Brown won 60 percent of the vote in 2006; Bush took 61 percent in South Carolina in 2004. But Brown is facing a surprisingly lively challenge from Democrat Linda Ketner, the heiress to the Food Lion fortune, who has outspent him. The coastal district, which includes Myrtle Beach, has a large black population. Brown is expected to win, but it could depend on the black turnout.
Canaries In The Coal Mines
All elections bring surprises. In 2006, for example, who would have predicted that Iowa Republican Jim Leach, who served three decades in the House, would be defeated by his Democratic rival, a college professor?
Tim Sahd, House race editor for Hotline, expects more of these this year — in West Virginia, South Carolina, Virginia and possibly Wyoming. He calls these "buried races" — ones that no one expected to be in play, but are now within Democratic reach. If any of these districts turn blue, Sahd says, "it's a sign this is an ugly night" for Republicans.
Consider, for example, Virginia, in which counties in the north trend toward Democrats, but counties in the south are solidly conservative — or so one thought. Charlottesville is culturally conservative,and has sent Republican Virgil Goode to Washington six times. But his Democratic opponent, Tom Perriello, is waging a strong campaign. He's helped by Obama's appeal to black voters, who make up 24 percent of the district. Sahd says that how Goode fares could foreshadow what happens in other heavily black districts.
Ditto for Virginia Beach, a district filled with military families that have voted for Republicans for some time, including Thelma Drake, who is seeking her third term. Some pollsters consider her race with Glenn Nye — a diplomat running for the first time — a tossup. Once again, Democrats hope that the coattails of Obama and Democratic senatorial candidate Mark Warner will carry Nye into office.
If you like long shots, watch Wyoming, home of Vice President Dick Cheney. Controversial Republican incumbent Barbara Cubin is retiring, leaving an open seat. Trouble was brewing for Republicans in 2006: Democrat Gary Trauner, an Internet executive, nearly beat Cubin two years ago. Now he is running against Republican Cynthia Lummis, who some say has run a lackluster campaign. If Democrats win in Cheney territory, that could indicate that they will net far more than the expected 20 seats, Sahd at Hotline says.
Party Flips And The Democratic Strategy
Democrats lost no time after their 2006 victory in trying to consolidate their wins. Howard Dean, head of the Democratic National Committee, called for a "50-state strategy" — an effort to rebuild Democratic organizations in every corner of the country, including red ones, according to an analysis by Congressional Quarterly.
In February 2007, a few weeks after the 110th Congress was sworn in, the Democratic Congressional Campaign Committee (DCCC) announced the names of "Frontline Democrats." These included 29 freshmen who were swept in by popular dissatisfaction and could be most easily swept out two years later. They received fundraising and logistical help, plus assignments to influential committees and popular pieces of legislation to promote.
The DCCC also targeted "Red to Blue" takeover opportunities, beginning with a list of 10 vulnerable Republican seats and growing to dozens.
At this point, about two dozen could move from the Republican to the Democratic column. Here are a few highlights:
Connecticut is a blue state, but Republican Christopher Shays has held his seat for 20 years. This year, with voters taking out their frustrations on Republicans, he may lose to Democrat Jim Himes. Himes was born in Peru, graduated from Harvard and Oxford as a Rhodes scholar, and raised more than $2 million, nearly matching Shays. If Shays loses, there would not be a single Republican from New England in the House.
Connecticut may be an obvious target for the Democrats, but Minnesota's 6th District is not. This fiscally conservative district in the Twin Cities suburbs elected Michele Bachmann in 2006. If she loses, it will be because of her own words. Her comments questioning Obama's patriotism and suggesting that members of Congress be investigated for the same alleged lack of patriotism created a tsunami of campaign contributions for her opponent: Elwyn Tinklenberg, who is now favored to win.
Democrats are also gaining from demographic changes. Northern Virginia, for example, has turned bluer as people from across the country moved to the Washington, D.C., suburbs. With popular Republican Rep. Tom Davis set to retire, Democrats are rallying behind Gerry Connolly, chairman of the Fairfax County Board of Supervisors, who is expected to win handily over Republican businessman Keith Fimian. This seat may be a bellwether: If the Republicans hold it, says Sahd, it might be a better night for Republicans than expected.
Another demographic shift — this one in the Cuban-American community — could fell one or both of the Diaz-Balart brothers. Lincoln and Mario, who represent areas near Miami, have made careers out of opposing Castro and any economic advantages the Cuban dictator might glean from the United States. But their constituencies are changing. Many non-Cubans have moved into their districts, and the younger Cuban-Americans do not vote like their anti-Castro parents.
Red In The Age Of Blue: Rare Republican Flips
A handful of seats are likely to flip from Democrat to Republican. In some cases, the Democrat imploded. In others, changing demographics or the fundamentals — the economy, resentment over the war — are overwhelming solid Democrats.
Only one freshman Democrat is likely to lose his seat: Florida Democrat Tim Mahoney. He replaced Republican Mark Foley after Foley was found to have sent suggestive text messages to underage male pages. But in October, Mahoney was entangled in a sex scandal himself: He agreed to pay $121,000 to a former mistress who worked on his staff and was threatening to sue him. Now, he's likely to lose to Republican Tom Rooney, a lawyer whose family owns the Pittsburgh Steelers and a Palm Beach County dog track.
Another vulnerable Democrat is Nick Lampson from the Houston area. In 2006, he seized an opportunity created by the indictment of House Majority Leader Tom DeLay, who resigned in June 2006. It was too late for the Republicans to put someone else on the ballot, and so Lampson won handily. But this district is conservative, and many believe Lampson's victory was a fluke that has run its course. Republicans believe they've found the perfect opponent in Pete Olson, the former chief of staff to Sen. John Cornyn.
In Pennsylvania, Democrat John Murtha is likely to win — but this race could presage a strong Republican showing. A virtual unknown Republican challenger, William Russell, is waging a surprisingly feisty fight for the rural Pennsylvania district. Russell has been aided greatly by Murtha himself, who observed publicly that his district is redneck and racist, and stated that Marines killed civilians in cold blood in Haditha, Iraq. John McCain has leapt on this in his advertising. The results here could suggest that a conservative movement that emphasizes God and country, and reservations over immigration, may be making some inroads.
Post-Partisanship, Anyone?
Barack Obama has often spoken of moving past partisanship. But will there be any chance of harmony come Nov. 5? Analysts see conflicting political breezes, and it will all depend on which wind is dominant.
On the one hand, says Sahd at Hotline, many of the Democratic candidates in the South and Southwest are socially conservative, such as Don Cazayoux of Louisiana (who is expected to lose), Bobby Bright and Parker Griffith of Alabama, and Travis Childers in Mississippi.
On the other hand, Sahd sees a dwindling number of moderate Republicans in the House. "Republicans could be backed into a corner, and feel they have to fight back against the administration," he speculates — assuming that Obama captures the White House.
Any antipathy toward compromise may be compounded by the Senate results, he adds. "Since the Senate may not have enough votes to stop Democratic initiatives, they may feel they have to be the loyal opposition."