'Repo!' Opera: A Genetically Enhanced Hit?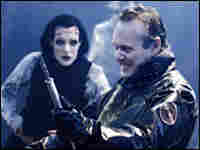 Steve Wilkie/Lionsgate Films
A "cult" can be defined as a faddish, even an obsessive clan of followers for an idea — or a work of art.
So cults are coveted by many small films and small filmmakers, who know that inspiring one can extend the life of a movie on the midnight circuit or on DVD.
Just consider The Rocky Horror Picture Show: It's been shown continually in movie theaters since its release in 1975. That gives it the longest theatrical run in history.
Now along comes Repo: The Genetic Opera, a film that some have hailed as the new Rocky Horror.
Of course that "some" includes its creators. Which raises the question: Is it possible to engineer a cult classic? Or are fans the only ones able to bestow cult status?
In the audio version of this story:
• how filmmaker Darren Lynn Bousman pitched Repo to studio executives: "Rocky Horror Picture Show meets Blade Runner," complete with easy credit for replacement organs — and merciless repo men stalking those who can't make the payments.
• how Bousman, who directed three Saw sequels for Lionsgate, convinced the suits there was an audience: like Rocky Horror, Repo is based on a stage play with a strong following.
• why creating a cult hit is difficult to do: "Can you go in ... with the intention of creating what's cool?"
Plus, on Monkey See, NPR's pop-culture blog: How the Repo team is using the Web to help build an audience before the film's release.
Beth Accomando reports for member station KPBS in San Diego.