Three Writers With Charisma, PassionAnd Style
I hate books. Oh, where do I find all the time for not reading so many of them? But I do. The chief knowledge that a man gets from reading books is the knowledge that very few of them are worth reading.
Writing is a long, painful and appallingly styleless process that takes you away from people. Writers I admire are those who have transcended their medium and made sure they themselves displayed more style than their mere creations.
Quentin Crisp, Andy Warhol, Lord Byron — their personalities touched the imagination even more intimately than their work. Books are only things, but writers are individuals. Of course, they all have a dash of vulgarity. Who, without an element of vulgarity, can become a work of art?
'The Naked Civil Servant'
The Naked Civil Servant, by Quentin Crisp, paperback, 224 pages
Quentin Crisp is one of the greatest dandies ever to have lived. His book, The Naked Civil Servant, is about narcissism and negation, vitality and vulnerability, grandiosity and humility — all told with an aching, creative heart. It is the book of a warrior, a dandy who throws down a perfumed gauntlet and fights a hostile world — and all in the most exquisite prose and clothes: "In an expanding universe, time is on the side of the outcast. Those who once inhabited the suburbs of human contempt find that without changing their address they eventually live in the metropolis," writes Crisp. To justify its existence, writing has to be extraordinary. If it's ordinary, it's less than worthless; it's clutter. Crisp teaches that if language is the dress of thought, then there is never any excuse for denim.
'The Philosophy Of Andy Warhol: From A To B And Back Again'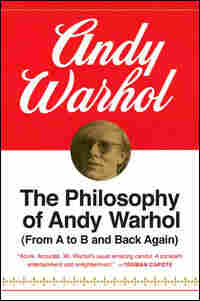 The Philosophy of Andy Warhol: From A to B and Back Again, by Andy Warhol, paperback, 276 pages
Profundity, popularity and profitability are rare bedfellows in art, but in Andy Warhol's From A to B and Back Again, we have it all. This great book unbalances you. It disarms you and suggests ways of being, and even aspects of behavior.

Warhol is like Shakespeare: all that weight written with a feather! He was superplastic profound. He was important for being trivial yet deep, poppy yet interesting — all the things I have come to love in one person. Warhol is transcendent trash — one foot in heaven, the other in Woolworth's.
'The Deformed Transformed'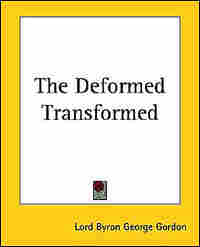 The Deformed Transformed, by Lord Byron, paperback, 88 pages
As for Byron, as a thinker he was almost on the level of a child. And who cares about those poems? Sissy stuff that rhymes? That is not why we adore him. We love him for the glamour of his arrogance, his romantic disarray and melancholic grandeur.

A compulsive gambler and ardent womanizer, Byron excelled at reducing life to grand absurdity. He was lame, but did he care? "Deformity is daring" he says in The Deformed Transformed. Style is knowing who you are, what you want to say, and not giving a damn.

Writing usually describes the unlived life. It is a lonely and private substitute for experience. Crisp, Warhol and Byron knew that it is necessary to have known strong passions in order to depict them. They valued the impulses of the heart above social convention. In these writers, beauty is the glove into which charisma slipped its hand.

Three Books ... is produced and edited by Ellen Silva and Bridget Bentz.
Books Featured In This Story
Paperback, 88 pages |
purchase
Buy Featured Book
Title

The Deformed Transformed

Author

George Gordon Byron, Baron Byron
Your purchase helps support NPR programming. How?
Purchase Featured Books
Buy Featured Book
Title

The Naked Civil Servant

Author

Quentin Crisp
Your purchase helps support NPR programming. How?
Buy Featured Book
Title

The Philosophy of Andy Warhol: From A to B and Back Again

Author

Andy Warhol
Your purchase helps support NPR programming. How?