How Do You Get People To Change?
How Do You Get People To Change?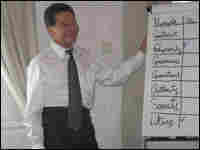 Knowing there's an energy crisis is one thing. Persuading people to make changes to their behavior is another — especially in a consumer society.
Bob Cialdini, an Arizona State University psychology professor and co-author of Yes! 50 Scientifically Proven Ways to Be Persuasive, says the first step may be finding new ways to ask for that change.
In two of his books, Influence: Science and Practice and Influence: The Psychology of Persuasion, Cialdini examines why people comply with requests. For years, he has studied the most effective ways to get people to change how they do things.
He says Americans have been convinced that they deserve to consume. Most people don't need large SUVs like Hummers, but they buy them anyway because they can.
"People seem to feel that they are entitled to the resources that go along with the level of achievement that they've had," Cialdini says.
But the trick is to get people to think that conserving, rather than consuming, is the norm. In other words, people need to believe that "everyone is doing it."
You know those cards inside hotel bathrooms that urge guests to reuse towels?
Cialdini collected these cards as part of an experiment to find out what message works best to reduce laundry costs and save water. He says the wording on those cards can make the difference in whether someone reuses a towel or asks for a new one.
A card from a London hotel reads: "We all enjoy the luxury of crisp clean towels, so much so that the lure of an endless supply inspires us to consume more than necessary."
But Cialdini says that message is problematic. "They've told the client, 'All your fellow guests do this,' and it's the exact wrong subtext message," he says.
Instead, the optimal message is to say, "The majority of guests that stay in our hotel do reuse their towels."
In this case, the subliminal message is that everyone is conserving.
Another way people's habits can change is by enforcing the rule of reciprocation. If a server delivers mints to the table instead of leaving a bowl by the door, Cialdini says the server's tip goes up 14 percent.
If the server delivers two mints per person, there is a similar effect. That is because the "gift" has been given before the check is paid, so some guests feel they are obligated to reciprocate.
"After I have received, I have to give back to those who have given to me," Cialdini says of the psychology. "That is the rule we have been trained in since childhood."
He says that if opinion makers and the government tried selling the idea that Americans have already gotten their gift, these methods could be used on big issues like energy conservation.
If he were "secretary of energy messaging," as he puts it, Cialdini says he would say, "You have been given an array of natural resources like nowhere else on the planet. You are obligated to be a steward of what you have been given."
Cialdini suggests leaders should make it patriotic to conserve, rather than consume. He says that using effective persuasion techniques can lessen the pain of change and get better results.