Mo Willems: Walking In On The Jester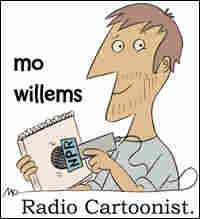 What does a man say when he walks in on his wife trying on a funny outfit?
In the latest installment of cartooning on the radio, cartoonist and children's book illustrator Mo Willems and host Michele Norris try to come up with an answer.
Willems is trying to become a radio cartoonist. We received hundreds of submissions in response to a request for listeners to caption some of his drawings.
Below is the latest cartoon with the intended caption. Head to Monkey See to try your hand at captioning a fresh batch of drawings. You might hear your suggestion on the air.