High Places: Fragility Personified
Head Spins [Extended Version]
Friday's Pick
Song: "Head Spins"
Artist: High Places
CD: 03/07-09/07
Genre: Pop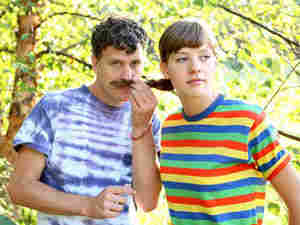 High Places' members make looped music without loops; music that repeats itself without seeming repetitive. They draw from patterns charted out by hand, until an unconscious break occurs. Composers such as Steve Reich have experimented with this technique using more formal instruments, but never in such a heartwarmingly low-rent way. High Places' samples aren't glossy, pristine or impeccable; they're handmade and hand-played, and it shows.
Still, the most interesting juxtaposition in "Head Spins" — from the recent singles collection 03/07-09/07, which was just followed by a new self-titled studio album — is the way singer Mary Pearson's almost childlike lyrics are set against thick psychedelic landscapes. "Ah-ha-ha-ha / You're a pretty girl" is the key line here, with "pretty" scraping the top of Pearson's range, to the point where her voice threatens to crack between the syllables. Perhaps that's the point: The samples and the vocal together possess the common ground of human fragility and even human error. In this mindset, High Places' members are free to use whatever sound sources they please, knowing that it's human interaction that gives their songs life.
Listen to yesterday's Song of the Day, and subscribe to the Song of the Day newsletter.