Ultralight Instruments Meet Heavy Innovation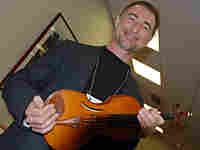 Today in Portland, Ore., the Violin Society of America wraps up a weeklong gathering.
The Society's annual conference attracts many of the country's top luthiers — and with them, some of the latest innovations in the classical world.
Joseph Curtin brought his ultralight violin, which he says is made partially from balsa wood.
"It has elements that are ancient, like this old design which I saw in a museum in Japan ... which I thought looks fresh and modern as well," Curtin says. "And overall it's sort of a minimalist instrument. I've taken all the lines and taken some of the baroque curls out of them and reduced it to a sort of more basic outline, which gives a sort of modern flavor."
Weigang Li, first violinist for the Shanghai Quartet, had a chance to test it out.
"This one is amazing," he says. "I cannot believe it's a modern violin. It sounds like it's been played for years, if not decades."
Weigang was also presented with a viola made by David Rivinus. Except Rivinus "shrunk" it to the size of its smaller, higher-pitched cousin: the violin.
"I would say that it looks as if someone took a viola that had been made out of silly putty," Rivinus says, "and grabbed it on the upper left, and grabbed it on the lower right, and just pulled it and stretched it in those directions."
"This is like Salvador Dali's painting," Weigang says.
Cello makers Jim Ham and Ted White also submitted their own ultralight instrument, made with balsa wood. Like many of the instrument makers at the convention, they're driven both by experimentation and innovation.
"I would like to see us come to the point where we can exceed what you can get out of a Stradivarius," White says. "You say that in some quarters and they go 'hissss' and cross their fingers at you, right? 'Cause that is the golden standard not to be exceeded — but I don't see why you can't exceed that."